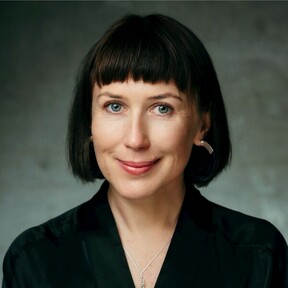 Owner у VP Team
ПРО МЕНТОРА
Засновниця VP Team.
20 років у рекрутингу.
Ми створили Core Teams для Grammarly, Smartling, Ring (Amazon), Vimeo, massive.com, muso.ai, binimambini.com, datamilk.ai, skylum.com та для багатьох інших.
Наші клієнти — продуктові IT-компанії та стартапи, які цінують людей.
Любимо айтішників. Допомагаємо талановитим людям знайти компанії, де їм буде добре, а хорошим компаніям — знайти талановитих людей.
Мандрівниця (98 країн so far).
ЕКСПЕРТИЗА
Executive Search, Recruiting, Human Resources
ДОСВІД РОБОТИ
VP Team
Owner
January 2010 — Present (12 years 5 months)
Kyiv
• 20 years in recruitment.
• We created Core Teams for Grammarly, Smartling, Ring. And found senior
developers for Railsware, Skylum Software, Vaimo.
• Our clients are product IT companies and start-ups that value people.
• We love software developers and help talented people to find companies
where they would feel great; and we help good companies to find talented
people.
Globallogic
HR-Director
May 2007 — May 2008 (1 year 1 month)
• Organized and managed HR department from scratch.
• Structured organizational units of the company.
• Defined recruitment needs, created staff reserves.
• Developed staff procedures, rules, regulations and business processes.
• Created staff assessment system.
• Managed psychological atmosphere in collective.
• Created and organized corporate culture events.
• Controlled assessment interviews.
• Developed adaptation program.
• Performed Trainings and consultations on development
• Developed labor remuneration methodology: constant and variable income
parts correlation, compensation packages and facilities, bonuses calculation
principles etc.
• Managed company employees' motivation status.
• Controlled quality of staff recruitment
Achievements:
• Described all business processes connected with staff
• Implemented staff assessment system
• Created adaptation and rotation programs
• Cut staff budget costs
• Managed HR and recruitment departments: motivation programs, trainings,
attrition management, event management etc.
• Developed and implemented HR policies
• Developed prototype of career system in the company
• Performed coaching for project managers ("People management").
• Controlled SAP and staff accounting
Domotechnica
Head of Recruiting and Adaptation Division
January 2006 — May 2007 (1 year 5 months)
• Recruiting and adaptation audit.
• Developed and implemented recruiting and adaptation systems for the group.
• С-level positions recruitment.
• Head office recruiting control.
• Organized adaptation process for new employees;
• Employee trial period control including employee work expected results and
overall company goals.
• Took part in staff reserve formation.
Achievements:
• Created recruiting and adaptation systems
• Developed number of procedures and regulations for recruiting and
adaptation with these business processes description
• Created and implemented Job Offer program for candidates
• Recruited TOP-managers
• Saved staff budget expenses
IT-Link
HR Director
November 2003 — January 2006 (2 years 3 months)
Responsibilities:
• HR division management: organization from the start.
• Company organizational structuring.
• Staff recruitment necessity definition, staff reserves creation.
• Developed staff procedures, rules, regulations and business processes.
• Created staff assessment system.
• Researched psychological atmosphere in collective.
• Created and organized corporate culture events.
• Assessment interviews control.
• Developed adaptation program.
• Trainings and development questions consultations.
• Developed labor remuneration methodology: constant and variable income
parts correlation, compensation packages and facilities, bonuses calculation
principles etc.
• Researched company employees' motivation status.
• Staff recruitment quality control.
• Corporate events organization.
Achievements:
• Described all connected with staff business processes
• Implemented staff assessment system
• Created adaptation and rotation programs
• Saved staff budget expenses
ОСВІТА
Poltava State 'V.G. Korolenko' Pedagogical Institute
Practice Psychology, specialist
1994–1999
ПУБЛІКАЦІЇ
Как проведение карьерных консультаций помогает рекрутеру. Вика Придатко и Марина Хомич
People First Club
Собеседование рекрутера или как Придатко достала козырь из рукава
Roman Yakymchuk Consulting
Повага — найкращий мотиватор. 6 порад від Reface та VP Team, як залучати IT-таланти на перегрітому ринку
SPEKA
Как будет развиваться ИТ рекрутинг в 2020-2021 году?
Svetlana Petrovicheva on Facebook
Рынок труда принадлежит кандидатам. Именно они все решают
Laba
Хорошие ІТ-специалисты любят интересные задачи, создавать полезный продукт, и когда им не мешают
internetua
Советы сеньоров: как прокачать знания junior HR/Recruiter
DOU
Есть ли найм на карантине: блиц-интервью с IT-рекрутерами Викторией Придатко и Дарьей Данченко
robota.ua
«Люди с горящими глазами – это больные лихорадкой». Вика Придатко о реалиях IT-рекрутинга
MC.today
Немає людей, за якими ви стежите