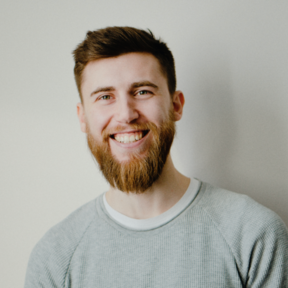 Засновник у «В тилу»
Head of Career Service у Projctr Institute
ПРО МЕНТОРА
У рекрутингу понад 8 років. За цей час вдалося зібрати 5 продуктових команд із близько 60+ осіб. Майже все з нуля.
Веду свій курс з IT-рекрутингу в Проджекторі. Допомагаю компаніям наймати найкращих і навчаю, як це робити.
ЕКСПЕРТИЗА
IT-рекрутинг, сорсинг, комунікації, інтерв'ю, оцінка, автоматизація
ПУБЛІКАЦІЇ
17 інструментів для рекрутерів в 2022
Jan 17, 2022 — PrjctrMag
Розвиток рекрутера в професії: про що треба знати джунам і практикам
May 13, 2021 — Prjctrmag
Як оцінити кандидата ще до інтерв'ю: поради куратора IT Recruitment
Mar 5, 2021 — Projector Mag
В каком формате лучше отправлять резюме? Колонка Артура Федоренко
Mar 12, 2020 — Happy Monday
Почему вы не пройдете испытательный срок: история маркетолога Ани и разработчика Сережи
Feb 11, 2020 — MC.today
Топ маркеров кандидата мечты или как найти сотрудника-«единорога»
Dec 2, 2019 — Ain.ua
Эффективный рекрутер – не рекрутер вовсе, а Success Manager?
Nov 20, 2019 — Rabota.ua
ДОСВІД РОБОТИ
Tochka otbora
Founder, Head of Recruitment
січень 2020 — Present (2 роки 1 місяць)
An educational platform for Recruiters, Sourcers, and HR
https://otbora.org
https://t.me/tochkaotbora
Projector Institute
Curator, Lecturer, Educational program creator
травень 2021 — Present (9 місяців)
Crafted the IT-Recruitment Course
Weblium
Head of Recruitment and HR
березень 2016 — жовтень 2019 (3 роки 8 місяців)
In collaboration with the CEO, I have formed a product team of 65 people.
MAIN POSITIONS FILLED:
1. Product Managers; C-Level positions;
2. Front-end (React, Angular, HTML/CSS);
3. Back-end (Node, AQA; DevOps;)
4. Design (Product Design, UX Architect, UI Design);
5. Marketing (CMO, PPC, Copywriting; SEO, Linkbuilding)
6. Sales, BDM, Customer Success, Customer Support.
TALENT ACQUISITION TECHNIQUES APPLIED:
• Headhunting,
• Executive Search,
• Sourcing (X-Ray, Boolean Search, GitHub, StackOverflow, Gitter, meetup.org, etc),
• Network recruiting,
• Growth-hacking recruiting,
• Marketing (PPC, Email Campaigns)
ACHIEVEMENTS:
• Have formed an additional remote team of 50 front-end developers within 2 months + Set up the onboarding and performance review process.
• Automated and streamlined the recruiting process.
• Launched a Careers Website with landing pages for each job opening.
• Created an Employee Onboarding Handbook.
• Launched the Relocating program.
• Launched and automated onboarding for sales and design teams.
• Set up the recruiting and HR analytics.
• Launched collaboration with Universities and ambassador network.
• Achieved the company turnover Rate: <7%.
HR
• Have developed a grading system for developers and designers (Competence matrix).
• Setup and automated HR workflow (sick leaves, vacations, salary reviews).
• Conducted one-to-one meetings, troubleshooting (Every 2 of 3 employees who were ready to leave the company, decided to stay for a long time after these meetings).
• Launched the "Help for Private Entrepreneurship" program.
TemplateMonster.com
Senior Recruiting Specialist / HR
квітень 2015 — листопад 2017 (2 роки 8 місяців)
Established a Kyiv's office and formed a product team of 40+ people within 6 months.
MAIN POSITIONS FILLED:
PMs; Scrum Masters;
Frontend Developers,
UX, UI Designers;
Magento Development team; WordPress Development team; Administrative personnel.
Main recruiting tools used: executive search, headhunting.
- Have initiated and set up E-Staff ATS in a company as a tool for recruiting;
- Took part in a full recruiting process formalization;
- Took part in Employer Branding;
- Have also developed and implemented the adaptation process;
- Initiated and implemented the Exit interview process;
- As HR I took part in troubleshooting that happened within teams
- In the meantime, I was responsible for forming teams for 2 other projects (the manufacturing of unmanned aerial vehicles and a volunteer crowdfunding platform).
KERNEL
Recruitment Specialist / HR (temporary position)
жовтень 2014 — березень 2015 (6 місяців)
UNISON GROUP
Recruitment Specialist / HR
липень 2013 — березень 2014 (9 месяцев)
Viasat Broadcasting
Recruitment and HR Intern
квітень 2013 — липень 2013 (4 місяці)
ОСВІТА
Kyiv National Economic University
Master's Degree, Human Resources Management
(2014–2015)
Нинішня посада:
Засновник
3 стежачих людей