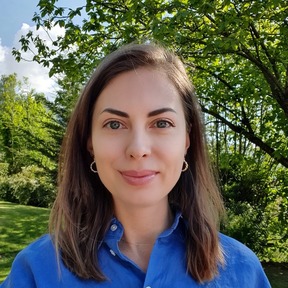 Senior Technical Writer у Globallogic
ПРО МЕНТОРА
Технічний письменник з 7+ роками бекграунду у технічній документації. Співорганізаторка мітапів з техрайтингу та спікер. Працюю із великими SaaS проєктами та продуктовими компаніями. Моє завдання на проєкті — це дизайн, написання та підтримка внутрішньої та зовнішньої документації.
ЕКСПЕРТИЗА
Проведення інтерв'ю зі стейкхолдерами та аналіз вимог до контенту.
Створення контент-архітектури.
Написання how-to, API гайдів, інструкцій для розробників та користувачів продукту.
Написання planning, meeting та release notes.
Запис навчальних відеоматеріалів.
ДОСВІД РОБОТИ
GlobalLogc
Senior Technical Writer
Feb 2020 — Present
Working on a project that specializes in software designed to enable an autonomous digital enterprise, developing products used for multiple functions including automation, service management, DevOps, workflow orchestration, AIOps, and security.
My main activities:
• Continuously improve project documentation in collaboration with engineers and product managers.
• Create, review and edit content for the new and enhanced features.
• Analyze documentation effectiveness using modern tools and metrics.
• Help project team members and customers to handle documentation-related questions.
• Work closely with the customer support department to analyze content gaps based on the query reports.
• Contribute to the project's TW team process.
Hiveon
Technical writer
Jan 2022 — Present
Helping a project team to build a Knowledge base for product documentation.
FigLeaf app
Technical writer
May 2019 — Dec 2019
• Daily collaboration within a cross-functional team;
• Participation in design sprints: ideation, prototyping, user interviews, and analysis stages;
• Managing project and user documentation;
• Preparing product requirements documentation for desktop and mobile platforms (BRD, FRD, user stories, use cases, and flowcharts);
• Leading the process of the Knowledge base formation.
Ciklum
Technical writer/Business Analyst
Jan 2017 — Apr 2019
Engaged in the well-known Danish project which provides solutions for electronic documentation workflow.
Key responsibilities:
• Managing functional and non-functional product requirements;
• Analysis and documentation of product requirements;
• Preparing mockups for the new product features;
• Participation in planning, best solutions, and problem-solving meetings;
• Verifying implemented products and features according to requirements compliance;
• Daily interaction with project team members in order to gain a deep understanding of the application cutting-edge features and documentation requirements;
• Updating and writing documentation according to the project needs (User Guides, Administration guides, online help, requirement specifications, etc.);
• Authoring and recording demo and video tutorials;
• Support the process of labels and text preparation for the product UI elements and messages.
Playtech
Technical writer
Aug 2016 — Dec 2016
• Support the whole process of the project's documentation;
• Writing Help files, different types of Release Notes;
• Maintaining QA processes including editing and verifying documentation with the help of special validation tools;
• Preparing QA reports;
• Cooperation with a project team in order to provide a high quality of documentation;
• Organizing and supporting the localization process.
Netcracker
Technical writer
Sep 2015 — Jul 2016
• Writing, editing, and updating technical documentation in English (User, Administrator, Developer, Installation guides, etc.);
• Communication with the project development team on the implementation of new features and planned changes to the solution;
• Documentation development effort estimation and planning;
• Development of customer training courseware and other related materials.
ОСВІТА
Kyiv National Linguistics UniversityKyiv National Linguistics University
Bachelor's Degree, English Translation
Institute of a Trade Union FederationsInstitute of a Trade Union Federations
Master's degree, Business Administration and Management, General
Нинішня посада:
Senior Technical Writer
Немає людей, за якими ви стежите