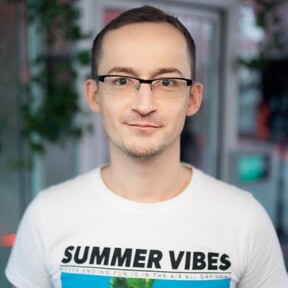 Founder & CEO at White Sales
Founder & CEO at Big Sister AI (SalesTech startup in Austin, USA)
ABOUT MENTOR
Salesman, entrepreneur and consultant. Founded White Sales, profess turquoise management, digitize sales processes and create artificial intelligence of sales.
Lecturer on sales / management topics in: White Sales School, Baggage, EBA, МІМ
Mission: Good should be sold more.
EXPERTISE
B2B / B2C Sales
Sales Strategy
Sales operations management
Analytics, tracking
Outbound / Pipelines
Scripts, customer profiles
Core domains: SalesTech | AI | B2B | B2C
PUBLICATIONS AND ACTIVITY
Articles
(UA): Як подолати вигорання та низьку ефективність
SPEKA, 2022
(UA): Чому український бізнес побудований на диктатурі?
SPEKA, 2022
(UA): Як ми стали бірюзовою компанією та відмовилися від ієрархії: досвід White Sales
Happy Monday, 2021
(RU): 11 сервисов, чтобы перевести офис продаж в онлайн — кейс компании «Риел»
AIN.UA, 2020
Videos
Host on White Sales Podcast where inviting Sales managers and chat with them about sales
EXPERIENCE
Big Sister AI
Founder
Aug 2022 - Present
Sales AI autopilot. Tracks activity, makes ideology and supports the team
White Sales
CEO
May 2009 - Aug 2022
Founder at White Sales - sales management consulting firm. Teal, SalesTech, AI & Sales evangelist.
Agency "Mark&Sales"
CEO
May 2009 - Nov 2019
Elyseum
Co-Founder
Mar 2014 - Jun 2016
ViDi Insurance
Head of Retail Network
Nov 2008 - Jun 2009
Universal Bank
Head of sales group
Aug 2007 - Nov 2008
EDUCATION
Ukrainian State University of Finance and International Trade at the Ministry of Finance
Master's degree, Management of foreign economic activity
(2004 - 2012)
Current Role:
Founder & CEO
Company:
White Sales / Big Sister AI
No followed people