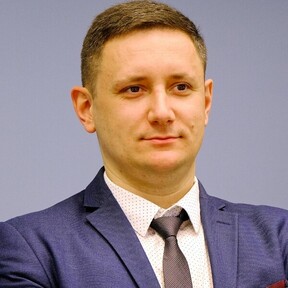 LEADER OF BUSINESS GROWTH PROGRAM || FINANCIAL ADVISOR || ФІНАНСОВИЙ РАДНИК
ПРО МЕНТОРА
Сертифікований спеціаліст, маю понад 10 років досвіду в аудиті, фінансовому й операційному консалтингу, а також корпоративних фінансах.
Наразі зосередився на напрямку допомоги з розвитком малим і середнім бізнесам.
Маю успішний досвід управління найбільшими аудиторськими проєктами в рамках Бейкер Тіллі. Протягом кар'єри заменеджерив більш як 200 аудиторських і консалтингових проєктів.
Детальніше можна ознайомитись тут>>
Буду радий новим знайомствам.
ЕКСПЕРТИЗА
фінансовий аудит
фінансовий менеджмент і аналіз
оцінка бізнесу
due diligence
фінансове моделювання
фінансове звітування (НП(С)БОУ, МСФЗ)
побудова та структурування фінансової функції
управління проєктами
ДОСВІД РОБОТИ
Baker Tilly (Ukraine)
Leader of Business Growth Program
June 2021 — Present time (1y 1m)
- Project manager of consulting engagements portfolio;
- Development of business growth strategy for SME;
- Development and implementation of budgeting and management reporting;
- Leading of due diligence engagements, business valuation;
- Evaluation of the investment attractiveness and perspectives;
- Leading of audit readiness engagements.
Audit Manager
October 2018 — December 2021 (3y 3m)
- Project manager of audit engagements portfolio;
- Leading of audit engagements (max team up to 40 members), audit of financialstatements under IFRS and Ukrainian GAAP, special purpose audits, reviews, agreed-upon procedures, other;
- Communication with clients and maintaining successful client relationships;
- Implementation of Agile / Scrum framework for audit projects management at Company's level;
- Responsible for the financial management of a portfolio of clients;Interoffice and internal reporting, including preparation of audit reports;
- Cooperation with foreign offices and coordination of multi-locationengagements;
- Managing and training of audit teams, including trainings facilitation andmaterials preparation;
- Recruitment, retaining, developing and motivation of employees;
- Coordination of internal CRM system redesigning.
N-iX
Head of corporate reporting
April 2018 — September 2018 (6m)
- Leading Group's financial accounting process, including foreing entities;
- Ensuring uninterupted financial data supply;
- Constant improvement of timingand accuracy of reporting Implementation of financial part of ERP system;
- Development of Corporate Reporting function Development and maintenance of Group's Accounting Policy Development and maintenance of underlying processes in respect to datagathering.
Baker Tilly (Ukraine)
Audit Manager
January 2016 — April 2018 (4y 4m)
Senior Auditor
January 2015 — December 2015 (1y)
Auditor
April 2012 — December 2014 (2y 9m)
Appraiser
November 2011 — April 2012 (6m)
ОСВІТА
Certificate of Auditor in Ukraine
(2017)
ACCA Diploma in International Financial Reporting (DipIFR)
(2014)
Certified Accounting Practitioner (CAP)
(2014)
Kyiv National Economics University
Master's degree, International accounting and audit
(2007–2012)
Berdychiv Polytechnic College
Junior specialist, Economy of Enterprise
(2004–2007)
Current Role:
Leader of Business Growth Program / Financial Advisor
Company:
Baker Tilly Ukraine LLC
No followed people