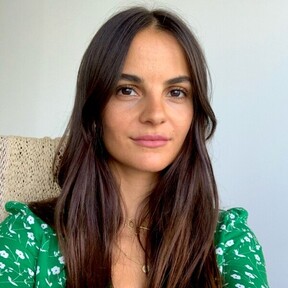 Head of Sales at @Perply
About me
Elitsa has 12 years of extensive experience with Sales.
Currently working at Preply as Head of Sales, she has built B2B Sales from scratch with 5-7x Y-o-Y growth.
Elitsa is an advisor for several Ukrainian start-ups that have 10xed their sales and valuations because of her support.
Elitsa is passionate about working directly with Co-founders to help them build a strong B2B go-to-market strategy, understand their ideal customer profile (ICP), and build solid sales processes and product offerings.
Main Expertise
Outbound Sales
B2B go-to-market strategy
ICP
Sales processes and product offerings
Inbound Sales,
Hiring
Experience
Preply
Head Of Sales
Aug 2019 - Present

Boston, Massachusetts, United States
Preply offers 1-on-1 online lessons with expert tutors, plus an interactive platform with self-study materials. Every week, 100,000 learners improve their language skills on Preply. Preply Enterprise collaborates with companies globally, offering customized solutions for professional language needs.
With Preply Enterprise you will get:
● Top tutors from around the world
● Tailor-made program
● Interactive platform
● Absolute flexibility
● Preferential customer support
Program Director, Supply and Preply Enterprise
Sep 2018 - Aug 2020
Elitsa is responsible for tutors' registration and approval processes, tutors' onboarding and overall performance.
Additionally, Elitsa is in charge of building the vision and the sales strategy for Preply Enterprise, a program specifically designed for teams and organizations offering made-to-measure language training with online tutors.
Head Of Customer Experience
Jan 2018 - Sep 2018
MOODua
Strategy Advisor
Aug 2021 - Present

Elitsa serves as a Strategic Advisor to the CEO of Mood.ua ( a fast-growing marketplace that offers the most effective and personalized service for corporate gift-giving). The company has 5x their growth YoY.
International Women's Club of Kyiv
Pro bono Overseer/Advisor
Feb 2016 - Present

Kyiv, Ukraine
Advises the Board of Directors on planning, organizing, and conducting all aspects of IWCK business.
Manages the public relations strategy of the organization for corresponding with other NGOs and the public.
Reviews, evaluates, and monitors Charity Grants applications to ensure compliance with policies.
Prepares Annual Financial Report and presents it to members
1991 Open Data Incubator
Pro bono Strategy Consultant
Jun 2016 - Jun 2019
Advises Ukrainian start-ups on developing a robust business plan, creating a go-to market strategy, and identifying potential investors
Integrites
Director Of Business Development
Sep 2016 - Dec 2018
CEB, now Gartner
Associate Director Business Development
Jan 2013 - Jan 2016
The world's most successful executives and professionals turn to the Corporate Executive Board (CEB) for the essential guidance that drives better decision making and superior outcomes. CEB offers comprehensive data analysis, best practice research, and advisory services that align to executive leadership roles and empower clients to focus efforts, move quickly, and address emerging and recurring business challenges with confidence. Our connected global network of clients consists of over 225,000 business leaders across 5,300+ organizations and 85% of the Fortune 500.
Elitsa managed a $2 mln. portfolio of existing clients and prospects with the goal of growing annual revenue through new business development and renewals.
S.O.L. Optics, C.O.T. Inc.,
Corporate Sales Trainer
Jun 2012 - Sep 2012

Conducted sales seminars for new and current employees on honing sales techniques
Developed sales incentive programs to motive employees which increased revenue
International Stability Operations Association (ISOA)
Business Development and Client Engagement Associate
Jan 2012 - Jun 2012

Managed and maintained ISOA's communications program including the website, social media sites, internal communications and member companies' database
Prepared daily briefing papers, members' newsletters and other material for the Board of Directors ' meetings
Planned weekly networking events for member companies and key government speakers and attended conferences on Emerging Markets, International Development, and Diplomacy
Michael Kors
Client Relationship Manager
Jan 2012 - May 2012

Corresponded with corporate executives daily on the store's financial performance
Maintained excellent client service and established long-term client relationship to generate a sustainable pipeline of revenue
Supervised and coached employees on how to maintain effective client relationships
Maui Jim
Sales Intern
Aug 2011 - Sep 2011

Worked and represented Maui Jim at trade shows and corporate events
Helped manage and organized select accounts
Supervised employees to achieve sales goals and objectives
Better Community Organization
Team Leader, Better Community Club
Sep 2009 - May 2011

Non-profit students organization which aimed to better the lives of orphans
Organized and planned charity events
AUBG Musical Hairspray
Production Coordinator of Hairspray musical
Nov 2009 - Apr 2010

The National tour at AUBG Musical Hairspray
Dance Formation Astra
Dance Instructor and Scheduler
2003 - 2008

• Scheduled multiple dance events, recruited new dancers, trained dancers from
age four to sixteen
Education
Duke University - The Fuqua School of Business
Online Class Business Metrics for Data-Driven Companies
2016 - 2016
The Wharton School
Online Classes Marketing/Marketing Management, General
2015 - 2015
American University in Bulgaria
Bachelor Business and Economics
2007 - 2011
Activities and societies: Debate Team Better
Community Volunteer Musical participant
Blagoevgrad High School of Mathematics
Mathematics Physics and English
2004 - 2007
Current Role:
Head of Sales
No followed people