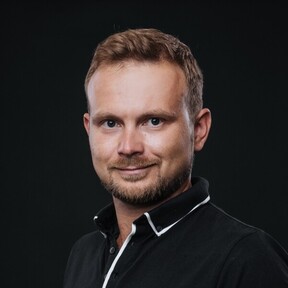 Managing Partner у Craft Innovations
ПРО МЕНТОРА
Hi there! I'm a managing partner at Craft Innovations - a research and
UX design agency trusted by Mastercard, UNDP, PrivatBank, Uklon,
BAT, MICB, Aglet, iLogos, BI, and many others.
ЕКСПЕРТИЗА
Sales Management
New Business Development
Negotiation
Валідація продуктових гіпотез: потреба в продукті (ідеї), приоретизація фіч, конкурентна розвідка
ПУБЛІКАЦІЇ
Андрій Губинський: Дизайн-мислення
Клієнтський досвід як конкурентна перевага бізнесу. Андрій Губинський, Craft Innovations.
ДОСВІД РОБОТИ
Craft Innovations
Managing Partner
December 2018 - Present (3 years 11 months)
Global research and CX/UX design firm. We help companies find actionable
insights and build products people love to use.
toBenchmark
Advisory Board Member
September 2021 - Present (1 year 2 months)
IT Software companies benchmarks. Up-to-date data about 72 KPI's in
7 categories: Recruiting, Finance, Sales and Marketing, HR, Operations,
Delivery.
Ukrainian Startup Fund
Expert-counsel
May 2021 - Present (1 year 6 months)
Uployal
Partner
2016 - Present (6 years)
Digital Loyalty Solutions for HoReCa and Retail industries. Driving customers
retention and experience level to a new high.
Order-Pay-Collect app, CRM and content management Platform, Customer
Feedback loop and other services.
Board community
Mentor
June 2020 - Present (2 years 5 months)
MIM-Kyiv Business School
Visiting Lecturer
September 2018 - Present (4 years 2 months)
Innovation management & Digital transformation
International Institute of Business, IIB-Ukraine
Visiting Lecturer
July 2018 - May 2020 (1 year 11 months)
Digital Transformation course for MBA program
SYNTEGRA LLC
Chief Marketing Officer, Board member
July 2017 - October 2018 (1 year 4 months)
Syntegra's main focus is to deliver new competitive advantages to our Clients
through providing support on the way of Digital Transformation of their
businesses.
Yug-Contract
Head of IT Distribution Department
March 2010 - October 2016 (6 years 8 months)
Asbis Ukraine
2 years 11 months
Business Development Manager
January 2009 - March 2010 (1 year 3 months)
Head of PC Mobile Department
May 2007 - January 2009 (1 year 9 months)
Consumer Electronics Distribution, Product Management
MUK
Sales Team Leader
October 2002 - May 2007 (4 years 8 months)
Sales Team Leader, VAD distribution.
Unitrade
Sales manager
2001 - 2002 (1 year)
ОСВІТА
MIT Sloan Executive Education
Design Thinking · (2019 - 2019)
International Management Institute (MIM-Kyiv)
Master of Business Administration (M.B.A.) · (2008 - 2010)
Civil and Political School (CAPS Kyiv)
State Management · (2016 - 2016)
Kyiv Mohyla Business School
the Executive Development Program, "HR for Top Executive" · (2015 - 2015)
International Management Institute (MIM-Kyiv, IMI-Kyiv)
Program Management Development "Marketing" · (2006 - 2007)
Current Role:
Managing Partner
Company:
Craft Innovations
No followed people