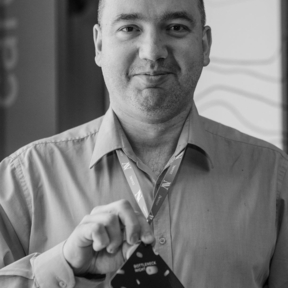 Java Architect Developer у NDA
ПРО МЕНТОРА
На даний момент моїм основним профілем є Java (люблю працювати з останніми версіями
версія).
Сфера моїх інтересів – distributed systems, microservices architecture, clouds.
Також люблю допомагати бізнесу вирішувати його проблеми та вирішувати складні технічні завдання.
Зацікавлений у ролі системного архітектора, лідера команди (70% розробка / 30% управління).
Готовий грати роль провідного розробника.
ЕКСПЕРТИЗА
Java
Scrum
Team Leadership
System Architecture
ПУБЛІКАЦІЇ
Google Developers Group Christmas Tech Talks - Dec 2013
Introduction to Android Studio- IT-Cluster Luhanshchyna (ukr) - Nov 2020
ДОСВІД РОБОТИ
IT Company
Java Architect Developer
May 2022 - Present (5 months)
Project description:
The system collect data at every point on your site which is then processed
and aggregated into tables and dashboards to give a visual view of your
website and customer behavior. Clients use these dashboards to see how
customers are interacting with their site and what leads to higher conversions
and revenue.
IT Company
Principal Software Developer
April 2021 - 2022 (1 year)
Responsibilities:
- Develop high quality testable and maintainable services
- Communicate with teammates in a distributed team
- Develop features all the way from a concept up to the deployment
- Design, discuss with teammates and implement new functionality
- Perform code reviews and knowledge sharing
Tech Company under NDA
Java Architect Developer
May 2020 - April 2021 (1 year)
Responsibilities:
- Developing new product from scratch
- Participated in evaluation technology stack
- Participated in architecture and design of product
Java / C++ Architect Developer
May 2019 - April 2020 (1 year)
Responsibilities:
- Implementing new features
- Refactoring existing features
- Bug fixing
- Testing
- Performance optimization
- Optimization of memory utilization
Luxoft
Kotlin Architect Developer
June 2018 - May 2019 (1 year)
Responsibilities:
- Implementing new features
- Refactoring existing features
- Testing
Tech companies under NDA
Java Architect Developer
July 2017 - June 2018 (1 year)
Levi9 Ukraine
Java Architect Developer
August 2013 - July 2017 (4 years)
Responsibilities:
- Leading team
- Fixing bugs
- Developing features
- Developing microservices
- Communication with onsite team
- Developing projects based on Backbase CXP platform
LINK group
Java Trainer
November 2014 - February 2016 (1 year 4 months)
SysIQ, Inc.
Java Team Lead / Project Manager
October 2010 - August 2013 (2 years 11 months)
NetCracker
Lead Java Developer / Performance Engineer
September 2008 - October 2010 (2 years 2 months)
GlobalLogic
Lead C++ Developer
September 2005 - September 2008 (3 years 1 month)
IDM
Senior C++ Developer
June 2003 - August 2005 (2 years 3 months)
KP VTI
Java Architect Developer
April 2000 - May 2003 (3 years 2 months)
ОСВІТА
National Technical University of Ukraine 'Kyiv Polytechnic Institute'
Engineer's degree, Design and technology of electronic
devices · (1997 - 2002)
Нинішня посада:
Java Architect Developer
Немає людей, за якими ви стежите