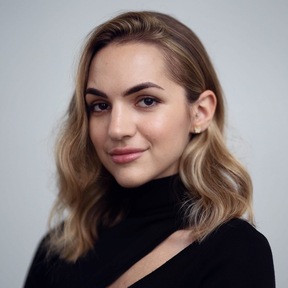 Communications manager у SocialTech
ПРО МЕНТОРА
ЕКСПЕРТИЗА
Internal Communications
Corporate Communications
Communications Planning
ДОСВІД РОБОТИ
SocialTech
Communications Manager
Oct 2021 - Present (1 год)
Design, develop and execute the company's internal communication strategy.
Manage internal communication campaigns and timelines.
Manage intranet and other internal channels to raise awareness about the company`s strategy, brand and culture.
Plan, edit and write content for Slack channels, monthly digests and regular email bulletin. Also, work on content layouts.
Support all comms events for employees (All-hands meetings, ST Talks, ST Interviews) both online and offline.
Supervise the internal school for employees.
Coordinate the company`s CSR project supporting Ukraine during the wartime.
Support the company`s external promotion campaigns.
Takeda
Communications Manager
April 2021 - Sep 2021
Ukraine and CIS Cluster
o Strategy development and its implementation to promote company using PR
tools in accordance with company policies and current legislation
o Development of company's internal and external PR campaigns and CSR
projects
o Interaction with PR agencies, media agencies and other stakeholders
o Writing and preparation of internal and external communications
o Localization of global and regional strategy into LOC tactics, Action Plan &
Implementation
o Coordination of content for the company's internal platform and external
website
o Participation in organizing company's press events, external meetings and
events for employees
o Branding of souvenir and promotional items for internal and external usage
(design and procurement processes)
o Reacting to upcoming requests (e-mail from the official site, hotline, upcoming correspondence).
Communications Specialist
January 2020 - April 2021
o Development of company's external and internal Comms projects as well as
CSR projects
o Interaction with PR agency, media agency and other stakeholders
o Writing and preparation of internal communications
o Localization of global and regional materials
o Participation in organizing company's press events, meetings
o Branding of souvenir and promotional items for internal and external usage
Marketing Assistant
September 2017 - January 2020
writerbay.com
Copywriter
2015 - July 2017
I write various kinds of writing assigments on a given topic. My fields of
profiency are Business, Communication, English, Management, Marketing,
Sociology, World affairs, History
The Ministry of Foreign Affairs of Ukraine
Trainee in Directorate General for Policy and Communications
July 2016 - August 2016
JTI (Japan Tobacco International)
HR Intern
April 2016 - July 2016
o Assisting with a project on staff diversity
o Assisting with final interviews and translation
o Working on a group marketing project on portfolio development
Mindy Supports: Remote Sales, Marketing & Customer Support
Assistants
Sales Assistant
October 2015 - March 2016
Core tasks:
- Online marketing research conducting
- Database research
- Dealing with Email correspondence
- Communication with client
ОСВІТА
Kyiv National Taras Shevchenko University
Bachelor's and Master`s degrees, Law · (2014 - 2020)
Kyiv Academy of Media Arts
Copywriting · (ноября 2020 - марта 2021)
Kyiv National Taras Shevchenko University
Bachelor's and Master`s degrees, International Business · (2013 - 2019)
Chernihiv magnet school #1 with an extensive learning of foreign
languages
· (2002 - 2013)
New Hanover High School
· (2012 - 2012)
Нинішня посада:
Communications manager
Немає людей, за якими ви стежите