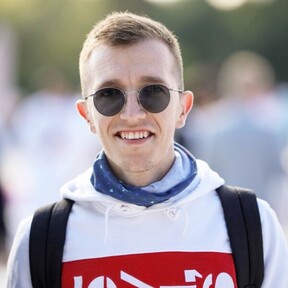 Go Engineering Lead у Intellias
ПРО МЕНТОРА
Я маю досвід в декількох сферах
1. Займався рекрутингом і потім перейшов в розробку. Мав змогу подивитися на обидва боки цієї справи. Сподіваюсь, що можу поділитися своїм досвідом на кожній з цих позицій стосовно рекрутингу, інтерв'ю, комунікації.
2. Маю освіту психолога. Часто виступаю як коуч для людей зі свого оточення. Можу вислухати та допомогти пропрацювати питання зміни роботи чи проф. росту.
3. Зараз працюю як Go Engineering Lead. Можу розповісти про мову, допомогти з планом вивчення. Також, можу поділитися своїм досвідом керування командами (проте команди були завжди маленькі). Окрім цього, є можливість поговорити про перехід із розробника в ліди (хоча не впевнений, що я вже на фінальному етапі).
4. Займаюсь Go спільнотою (в Харкові та в компанії, де працюю). Маю досвід організації мітапів, курсів; побудови ком'юніті, курсів. Завжди допомагаю спікерам в підготовці матеріалів/виступів — можу дати поради та допомогти перебороти фобію виступів. Можемо навіть організувати якусь подію.
ЕКСПЕРТИЗА
Golang
PostgreSQL
OOD
ПУБЛІКАЦІЇ
DeoxxUA 2021. Viktor Pakhuchyi. Go: escape analysis
Devoxx Ukraine
Hints in Go
GolangUA
Welcome my son, welcome to the Context
GolangUA
ДОСВІД РОБОТИ
Intellias
Go Engineering Lead
жовтень 2021 — до нині (10 місяців)
FinTech: digital bank.
Tech stack: Go, TypeScript, AWS(Event Bridge, Lambda, CloudFormation, DynamoDB), Docker, GitLab.
Responsibilities:
- Technical tasks implementation, design
- Code review, code optimization, refactoring
- Participation in team planning, proper estimations, commitments
- Creating a technical vision
- Communication with stakeholders and management
Go community leader
жовтень 2021 — до нині (10 місяців)
Responsibilities:
- Organisation of internal weekly/monthly meetings
- Preparation of speeches
- Supporting public speakers with speeches preparation
- Promotion of Go inside the company
Go Engineering Lead
грудень 2020 — жовтень 2021 (11 місяців)
Automotive: vehicle management app.
Tech stack: Go, MySQL, Redis, MongoDB, MinIO, Kafka, Rancher, Docker, K8s, WebSockets, Bitbucket.
Responsibilities:
- Mentor junior/middle engineers;
- Develop microservices for a new platform, writing high-quality code and tests;
- Translate UI/UX designs and technical specifications into maintainable and effective code;
- Lead a back-end team;
- Analyze, enhance, and support moving features from monolith applications to a new microservices platform.
SoftServe
Go Software Engineer
грудень 2018 — грудень 2020 (2 роки 1 місяць)
Consulting: spends management tool.
Tech stack: Golang, Echo, GORM, PostgreSQL, Minio, AWS, Docker, Git, Swagger.
Responsibilities:
- Estimation, prioritization, and distribution of tasks;
- Investigation of new features;
- Mentoring of junior developers;
- Pre-production activities;
- Code development, code review;
- Refactoring of big components;
- Architecture and design activities;
- Database architecture design and implementation;
- Improvement of the application performance;
- Management of 7-14 team members;
Junior Go Software Engineer
вересень 2017 — грудень 2018 (1 год 4 місяці)
Consulting: price management tool.
Tech stack: Golang, Gorilla-toolkit, Websockets, GORM, GOQU, Gorilla/ schema, PostgreSQL, Docker, Git.
Responsibilities:
- Estimation, prioritization, and distribution of tasks;
- Code development;
- Involvement in architecture and design activities;
- Design and implementation of the whole API;
- Involvement in database architecture design and implementation;
- Application performance improvement.
Trainee Go Software Engineer
червень 2017 — серпень 2017 (3 місяці)
Consulting: goods comparison tool.
Tech stack: Golang, Gorilla-toolkit, PostgreSQL, ElasticSearch, Jenkins, Git.
Responsibilities:
- Code development;
- Working on application performance improvement.
IT Recruiter
січень 2016 — травень 2017 (1 год 5 місяців)
IT Academy Recruiter
липень 2016 — березень 2017 (9 місяців)
SOURCE iT
IT Recruiter
вересень 2015 — лютий 2016 (6 місяців)
ОСВІТА
V. N. Karazin Kharkiv National University
Specialist degree, Psychology
(2010–2015)
Current Role:
Go Engineering Lead
No followed people