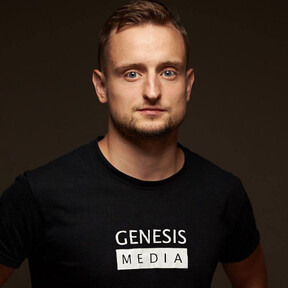 General partner у Flyer One Ventures
ПРО МЕНТОРА
Очолюю інвестиційний фонд Genesis Investments. Протягом 9 років в компанії був CEO Genesis Media та працював над запуском різноманітних R&D проєктів.
ЕКСПЕРТИЗА
Загальне розуміння сфери, спілкування з інвесторами, пітчинг
ДОСВІД РОБОТИ
Flyer One Ventures
Chief Executive Officer
January 2019 — Present (3 years 6 months)
BetterMe: Health & Fitness Apps
Co-Founder
May 2017 — Present (5 years 2 months)
Genesis Media
CEO
January 2015 — Present (7 years 6 months)
Genesis Media is one of the biggest media companies in the world. We launched and operate various kinds of online business including BetterMe (fastest growing health and fitness application in the world), most popular news and entertainment web-sites and apps in Nigeria, Kenya, Ghana and other emerging markets and US-focused entertainment publication Amomama.com. Overall more than 400 people work for Genesis Media all around the world.
Genesis Tech
Growth Hacker
October 2012 — Present (9 years 9 months)
TUT.BY
Project manager (Finance.tut.by)
May 2008 — October 2012 (4 years 6 months)
Lauched the biggest Finance web-site in Belarus and made it profitable
Mova
CEO
June 2006 — May 2008 (2 years)
We made a number of successful web-projects for our clients
ОСВІТА
Belaruski Dziarzhauny Universitet
Bachelor's degree, Economics
(2005–2010)
Lyceum of BSU
Mathematics
(2003–2005)
Current Role:
General partner
Company:
Flyer One Ventures
No followed people