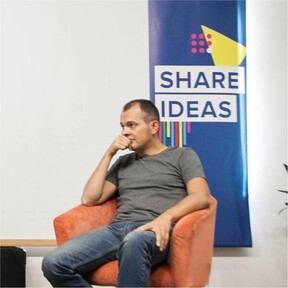 Investor and Board member at A1V Lab
About me
Entrepreneur(1 exit). Investor.

Sold my main business(Augmented Pixels) in #AI to Qualcomm in 2022.
Funded 2 global non profit initiatives(tech) and several AI startups.
Interested in business, policymaking and creation of long-term social institutions.
Main Expertise
Artificial Intelligence;
Augmented Reality;
Security;
Corporate Relations, IR;
International Sales;
Defense.
Experience
A1V Lab
Investor & Board Member
October 2022 - Present
A1V Lab is a Venture Builder.
Focus: #ArtificialIntelligence + #AugmentedReality
Industries: #Finance, #Productivity, #Security
Stealth Startup
Investor in Defense startups
October 2022 - Present
Investing in new defense startups to help Ukraine defeat ru**sia.
Qualcomm
post M&A transition - Director | XR / Spaces
January 2022 - September 2022
XR Metaverse
via M&A of Augmented Pixels, Inc which I founded in 2013
Augmented Pixels
CEO and Solo-Founder
March 2011 - January 2022
Education
Harvard Business School
Opm · (January 2023 - January 2025)
Odessa National 'I.I. Mecnikov' University
Bachelor's degree, business administration · (2004 - 2006)
Odessa National 'I.I. Mecnikov' University
Bachelor's degree (dropped), Applied Mathematics · (2001 - 2003)
Richelieu lyceum
Mathematics · (1997 - 2001)
Current Role:
Investor and Board member
No followed people