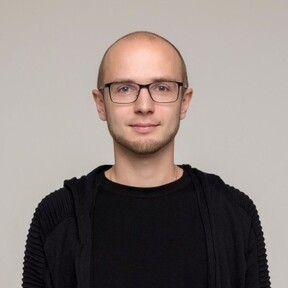 Partner у Icon.Partners
Senior Lawyer у Upwork
ПРО МЕНТОРА
Старший юрист і розробник бізнесу з понад 10-ма роками міжнародного досвіду.
Працював лише з глобальними технічними компаніями.
Сфера інтересів нині: ІТ, право, технології блокчейну, Web 3.0.
Багато років працюю зі стартапами, венчурними інвесторами, ігровими компаніями, аутсорсинговими або GameDev Studios, SaaS, фінтехнічними компаніями, рекламними мережами та проектами на основі блокчейну.
ЕКСПЕРТИЗА
Юридичний супровід міжнародних ІТ компаній, інвестиційний консалтинг (VC)
ПУБЛІКАЦІЇ
Топ-5 юридических советов по подготовке игр и приложений к публикации в App Store и Google Play Store
ДОСВІД РОБОТИ
Upwork
Senior Lawyer (Freelance)
March 2020 - Present (2 years 5 months)
Top Rated personal Upwork account in category Legal. 100% Success Rate.~80% of clients were blockchain tech startups
Icon.Partners
Partner
January 2020 - Present (2 years 7 months)
Partner of the law firm from Kharkiv (Ukraine). ICON.PARTNERS provides legal services to IT, FinTech, and e‐commerce businesses. I have been in the same position for the past few years. It is the result of many years of hard work and dedication that I have reached this point. I have always tried my best to learn more and deliver high‐quality work. This is why today, I can say that I have reached the top after knowing how to survive the deep and make it to the surface.
Blockchain-based startup
Legal Counsel (Blockchain-based startup)
February 2021 - December 2021 (11 months)
Advice on regulatory strategy, securing. Documents drafting such as SAFT, Shareholders Agreement, MSA, etc. Research on various legal questions regarding NFT, securities, and funding portals. Company legal structuring.KYC, AML, SEC rules compliance.
JetOctopus_
GDPR Compliance Officer
January 2018 - January 2019 (1 year 1 month)
Эстония
Monitoring compliance and data practices internally to ensure that the company complies with the applicable requirements under the GDPR.
BattleBe
Co-founder (Startup)
January 2018 - January 2019 (1 year 1 month)
Лондон, Англия, Соединённое Королевство
Co‐founder of the gaming‐related product. My responsibilities were attracting investments, legal structuring, project management, and product development.
LAWBOOT
General Counsel
January 2013 - January 2018 (5 years 1 month)
Ukraine
I have led a small team (around ten lawyers) that provided turnkey legal solutions to IT businesses by managing a different range of services – from negotiating with a customer on a new contract to preparing claims in case of contract violation. The most requested services were: business structuring, including partnerships agreements between founders, legal support of pre‐seed and seed investment processes, international tax advisory, contracts, registration of patents, trademarks, etc.
AliceInc Startup Incubator
Lawyer
January 2011 - January 2012 (1 year 1 month)
In‐house lawyer at Startup Incubator. My responsibility was the legal support of 6 tech companies such as a payment service provider, hosting service provider, torrent tracker, PPC ad network.
ОСВІТА
Yaroslav Mudryi National Law University
Master of Laws, LL.M, Business Law · (2007 - 2012)
Current Role:
Partner, Senior Lawyer (Freelance)
Company:
Icon.Partners, Upwork
No followed people