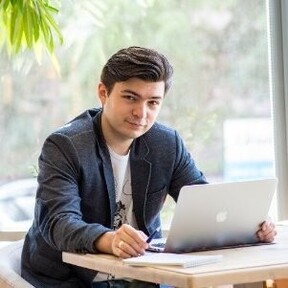 Coordinator Of Volunteers at PR ARMY
About me
As I'm finishing my education as a psychoanalyst, I am also open
to take part in multiple educational projects on psychology as a
speaker.
Main Expertise
Creative Writing
Ghostwriting
Community Outreach
Experience
PR ARMY
Coordinator Of Volunteers
Feb 2022 - Present
At PR Army, we connect journalists with Ukrainian experts and witnesses to
help them learn the truth about the war in Ukraine.
I've been helping teams across various verticals with all kinds of content tasks,
from helping witnesses tell their stories to ghostwriting guest columns on
behalf of experts in economics, agribusinesses, and energetics.
Self-employed
Consultant, Speaker, Psychologist
Sep 2020 - Present
Max Sushchuk
Content Strategist
Oct 2009 - Present
Urban Space 500
Co-Founder
Jan 2018 - Present
In 2018 we, 500 co-founders and investors, opened the first 'social' restaurant
in Kyiv.
It is predetermined to become an example of uniting a community around a
common cause since 80% of the restaurant's profit is going to be reinvested in
social projects and startups aimed at city development.
EGO CREATIVE INNOVATIONS
Content Lead
May 2019 - Feb 2022
Brainbean Apps
Content Director
Oct 2016 - Jan 2019
Green&Co
Content Strategist
Jan 2016 - May 2018
eZLO Smart Home
Copywriter and Technical Writer
Nov 2016 - Dec 2017
RubyGarage
Creative Copywriter
Aug 2015 - July 2016
TransGaming, Inc.
Technical Writer
July 2013 - June 2015
MacPaw
Copywriter + PM
June 2011 - 2013
At MacPaw I was responsible for writing press releases, marketing copies
(printed ads, landing pages, banners etc.), user documentation, blog posts,
site content and any other text content for the next applications: CleanMyMac
1 and 2, CleanMyDrive, Gemini, Hider, and Ensoul.
Having an idea of a simple iPhone application, I also managed its development
for a few months, provided advice on its realization and successfully brought
my vision of the product to the team. But since it was more of a side project
to develop expertise in Swift and Objective C, such initiative was eventually
dropped due to higher-priority projects.
Pre-copywriting Era
Sales Manager
Dec 2006 - Oct 2008
Being a consultant in the top Ukrainian bookstore in Kyiv, I was responsible for
giving advice to customers and helping them choose books they would like to
read. I studied our clients' interests and successfully proposed several ideas to
improve the arrangement of books. Having the necessary expertise I soon became
also responsible for conducting all the required technical preparations for every
cultural event (a book release, a conference, etc.) that took place in our store.
Education
International Institute of Depth Psychology
Psychoanalysis and Psychotherapy · (2019 - 2021)
MediaBistro
Non-degree student, Copywriting for the Web · (2012 - 2012)
Wharton School, University of Pennsylvania
Nondegree student, Gamification · (2012 - 2012)
Kyiv National Economic University
Bachelor's degree, International Economics · (2008 - 2012)
Kyiv Polytechnical Institute
Incomplete High Education, Physics, Theoretical Physics,
Algebra · (2005 - 2007)
No followed people