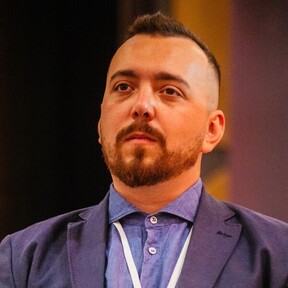 SRE у Let's Enhance
ПРО МЕНТОРА
Привіт, мене звуть Всеволод, але ви можете називати мене Сєва. Я працюю з DevOps і Ops протягом останніх 10+ років. Я працював (на місці та віддалено) з багатьма компаніями, такими як Grammarly, Ring, Amazon, Datarobot, Neuromation та іншими, будучи інженером, підрядником і керівником команди/техніки.
Крім того, я є засновником місцевої спільноти DevOps (2,3 тисячі учасників), засновник UkrOps і виступаю на різних конференціях.
ЕКСПЕРТИЗА
DevOps, Network Security, Technical Leadership, System Architecture, Operating Systems, System Monitoring
ПУБЛІКАЦІЇ
Vsevolod Polyakov "Dev (депресія) Ops"
DOU
Собеседования по DevOps с Всеволодом Поляковым
Interview Done!
Vsevolod Polyakov "Dev (депресія) Ops"
fwdays
ДОСВІД РОБОТИ
Let's Enhance
Site Reliability Engineer
Jan 2022 - Present · 7 mos
Ebury
Site Reliability Engineer
Apr 2020 - Dec 2021 · 1 yr 9 mos
Kuna
Software Engineer
May 2019 - Mar 2020 · 11 mos
Helping with minimization time-to-market metric, deploys, and monitoring. Mostly work with AWS, terraform, python and other things.
self employed
DevOps/SRE Consultant/Lead
Oct 2016 - May 2019 · 2 yrs 8 mos
My main areas of responsibility were: system architecture, processes, hiring, tooling, and all infrastructure things. Usually, I operate with Lead or Architector title.
One of my clients described me as a solution to any engineering problem. I'm sure I'm not a silver bullet, but I was flattered.
Neuromation
Lead Infrastructure Engineer
Dec 2017 - May 2018 · 6 mos
Hired 5 members to the infrastructure team. We built Mesos-based architecture for running client containers in customers' data-centers.
Grammarly
Platform Engineer \ Lead
Oct 2013 - Sep 2016 · 3 yrs
Started as a usual DevOps engineer, I created a platform team and fixed almost all problems of stability and high time-to-market metric.
I have implemented a no-ops culture inside a company and did a lot of teaching of developers and SRE engineers, implemented SLO/SLO, IaC, migrate from chef to docker, etc.
Globo-Tech
Linux System Administrator
Mar 2013 - Oct 2013 · 8 mos
Infrastructure. TAGS: debian, openVZ, ansible, kvm, proxmox, bash, ruby, nginx, little bit mysql, nginx, openvpn, nagios, check-mk
Freelance
System Administrator
Feb 2012 - Mar 2013 · 1 yr 2 mos
nginx, mysql, haproxy, ruby
Kyiv Post
System administrator
Aug 2011 - Feb 2012 · 7 mos
web&not web, nginx
Softprom
System Administrator
Nov 2008 - Oct 2011 · 3 yrs
System Integration Service
System x engineer
Feb 2008 - Nov 2008 · 10 mos
No followed people