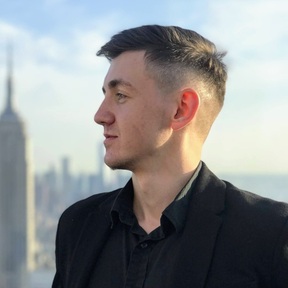 COO & Co-Founder у Ralabs
ПРО МЕНТОРА
Я один із засновників ІТ компанії Ralabs, яку ми розпочали з моїм другом та партнером у далекому 2016 році. Обоє будучи розробниками, ми стали будувати сервісний бізнес. Було багато проблем, криз, та й великих перемог. Зараз наша команда складається із 75 професіоналів. До Ralabs виступав на конференціях та брав участь у багатьох хакатонах.
P.S. Якщо мене розбудити посеред ночі, і назвати 3 будь-яких слова – я придумаю робочу бізнес ідею :)
ЕКСПЕРТИЗА
Distributed Systems
Scalability
Software Engineering
System Architecture
Software Design -Scrum
Payment Systems
PHP
ПУБЛІКАЦІЇ
How doest Shazam works?
Sep. 03, 2016
Dockerizing a Symfony2 application
Jun 20, 2015
Queue Data Structure (w/ php egs)
May 1, 2015
ДОСВІД РОБОТИ
Ralabs
Chief Operating Officer
October 2020 - Present (1 year 11 months)
Managing day-to-date operations of company, handling internal affairs.
Handling KPIs / metrics, developing data-driven approach, inter department
communications, maintaining and optimizing processes.
Co-Founder, Chief Technology Officer
August 2016 - August 2021 (5 years 1 month)
Responsible to help customers take advantage of business growth
opportunities by creating smart, one-of-a-kind technology solutions. Our team
excels in R&D, e2e implementation, with a strong focus on Ruby, JavaScript
and Python. No matter if you're launching a start-up or trying to validate
a genius idea for an enterprise software, Ralabs will become your magic
wand. Our skillful and brainy engineers will turn your ideas into workable and
lucrative solutions, any time of the day
REW Consulting Services, Inc
Technical Advisor
September 2018 - Present (4 years)
REW Consulting Services works with Fortune 500 and Global Organizations
to define and shape engineering and business requirements, create functional
specifications, and outline product roadmaps to successfully automate
outcomes and operationalize projects.
CURSOR Education
Co-Founder, Chief Technology Officer
November 2015 - Present (6 years 10 months)
The main purpose of CURSOR Education is to create environment for
experience. Less theory, and more practice. Involved as a frontend direction
course trainer.
Perfectial
Senior JavaScript Software Engineer
August 2016 - July 2017 (1 year)
Responsible for software engineering work and pre-sales activity.
Garage48 Foundation
One of winners of startup pitch
March 2017 - March 2017 (1 month)
EPAM Systems
4 years 11 months
Senior Software Engineer
October 2011 - August 2016 (4 years 11 months)
Responsible for RD Lab management, technical meetups, tech interviews, and
software engineer work.
Hackathon participant (UA Wide 2014)
November 2014 - November 2014 (1 month)
Built online educational system for internal company usage to improve
educational process.
Google Developers Group Lviv
Co-Founder
April 2012 - June 2014 (2 years 3 months)
Nravo
Hackathon participant
April 2013 - April 2013 (1 month)
http://thegame.nravo.com/
Created prototype of multiplayer "Animal Game" game for children, based on
"The Dots" game idea with wolf and sheep as main characters.
stripe-ctf.com
CTF participant (125 place from 16k)
August 2012 - August 2012 (1 month)
https://stripe-ctf.com/leaderboard/6
Independent participation on security ctf, took 125 place of 16'000 users.
Passed all levels on 3 days.
Ciklum
Global Android DevCamp 2012
February 2012 - February 2012 (1 month)
Ciklum office in Kyiv
Android hackathon in Ciklum office in Kyiv, supported by Kyiv GTUG.
Participated as UI-developer. Team consisted of 3 person. Participated in
creation prototypes of helicopter game with voice control, and tool for quickly
searching optimal ways for transports in Lviv.
Upwork
Senior Software Developer
August 2008 - December 2011 (3 years 5 months)
Working with widely set of stack – PHP, Perl, Python, C#, and even C++. More
than 20 successfully finished various projects directly to customers. On some
projects also involved as a Team Lead for small teams (less/equal 5 people).
San-Karpaty
Senior Software Engineer
2011 - 2011 (less than a year)
Lviv City Council
Founder of Anonymous Santa Claus Club at West Ukraine
2011 - 2011 (less than a year)
Service to engage people on the eve of the Christmas holidays. Attended 500+
people.
SoftServe
SoftServe Academy
2010 - 2011 (1 year)
SecurityLab
One of winners of Chaos Construction 2010 hackathon
2010 - 2010 (less than a year)
ОСВІТА
Lviv National Polytechnic University
Masters degree, Computer and Information Systems Security/Information
Assurance · (2011 - 2012)
Lviv National Polytechnic University
Bachelors, Computer and Information Systems Security/Information
Assurance · (2007 - 2011)
Lviv Legal High School
Current Role:
COO & Co-Founder
No followed people