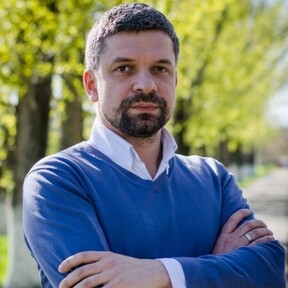 Chief Technical Officier у SDK.finance
Про ментора
Автор книги: «Світ цифрових платежів» і «Світ цифрового банкінгу»
Платіжний та банківський ІТ-архітектор
Винахідник
Наставник
AI / ML / Робототехнічний ентузіаст
Ентузіаст квантових обчислень
Незалежний консультант ОБСЄ
Експертиза
Core Payments та Core Banking
все що пов'язано з картковими платежами та електронними гаманцями
розробка дизайну, архітектури та аудиту технологічного рішення
Публікації
Automatic machine learning algorithms for fraud detection in digital payment systems
Eastern-European Journal of Enterprise Technologies
Досвід роботи
SDK.finance
Chief Technology Officer
Aug 2013 - Present · 9 yrs
CTO
Aug 2013 - Present · 9 yrs
Software development company that is offering a platform SDK.finance ("Software Development Kit for FinTech") as a back-end software for payment services.
SDK. finance is an enterprise-level CorePayment platform (back-end) with 270+ API and 7 back-offices for banks, EMI, payment providers and loyalty.
Zen Assets
CTO
Sep 2013 - Dec 2016 · 3 yrs 4 mos
Architecting and development manager
Payment Systems
CEO
Aug 2009 - Jan 2014 · 4 yrs 6 mos
Payment and Financial Service Development
Webmoney Transfer Ukraine
System Architect
Feb 2009 - Aug 2009 · 7 mos
Developing European part of system
Unicom Systems
CEO
Apr 2006 - Jan 2009 · 2 yrs 10 mos
Developing e-commerce services
Освіта
Institute of artificial intelligence problems
Master's degree, Artificial Intelligence and Machine Learning for Automated Systems
May 2004 - Jul 2008
Pre-Azov State Technical University, Mariupol
Postgraduate, Economic
2018
Current Role:
Chief Technical Officier
No followed people