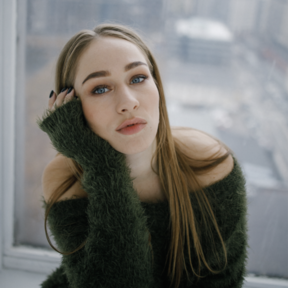 PR & Comms у Respeecher
ПРО МЕНТОРА
Останні 8 років займаюсь міжнародним піаром українських стартапів, зокрема Reface, Allset, а тепер Respeecher. Рік веду свій курс з основ піару на Projector. Мала публікації у WSJ, Forbes, Mashable, the Verge, Tech Crunch. У час війни активніше зайнялась інформаційним фронтом у якості фіксера і працювала з BBC та The Times.
ЕКСПЕРТИЗА
Public Speaking
Public Relations
Social Media Marketing
ДОСВІД РОБОТИ
Respeecher
PR & Comms
Mar 2022 — Present (4 mos)
Incredible AI technology that allows people to speak different languages in their own voice. An amazing tool that can help people with voice disabilities to talk again and their own voice again. Emmy-Award winning technology that made voice cloning for Mandalorian and Boba Fett movies. Happy to announce, I'm joining Respeecher team — a proud AI startup that was born in Ukraine.
Projector Institute
Curator at PR Basic Course
Jun 2021 — Present (1 yr 1 mos)
Crafted and curated a two-month PR course on the main aspects of PR campaigns, how to build media relations and make the first steps in Global Media communications. 14 out of 16 students successfully graduated after the first launch. Great experience though.
Reface
Head of PR
Sep 2020 — Oct 2021 (1 yr 2 mos)
- Worked on Reface PR strategy to build trust and brand awareness both for users, partners and potential investors
- Working with earned media and crafting a personalized pitch. As a result, since the launch startup was covered in Global media like Forbes, Mashable, The Verge, Business Insider, TechCrunch, The Wall Street Journal. Also, Reface was featured on the famous ABC's Morning show Live with Kelly and Ryan.
- building long-term relationships with editors and media representatives
- Managing and executing PR campaign for new product features launch (communication with tech and product teams, media outreach and media coverage, scheduling interviews and preparing comments)
- applying on awards (Reface founders were listed in Forbes 30 Under 30 Europe Award)
- PR of C-level and CEO (interviews with media, events, video blogs)
- launched few social PR campaigns: to support Ukraine's Olympic athletes, also with NGO UAnimals to support the animal anti-cruelty movement, had a joint project with Red Cross.
- Generate news outbreaks, so the product got constant and regular media coverage flow
- Helped Employer Brand team to get media exposure in local media.
AllsetAllset
PR & Communications Manager
Dec 2018 — Nov 2019 (1 yr)
- Work closely with media to guarantee a steady stream of media coverage (as a result Allset was covered and mentioned in Forbes US, Bloomberg, Digital Trends, Nation's Restaurant News, Tech Crunch, Business Insider)
- Develop storylines around restaurant tech topics
- Craft pitches and outreach reporters constantly
- Work closely with the US writer to produce press releases, one-pagers, case studies, articles, and other communications assets
- Implement and manage relationships with journalists in the US and Ukraine
- Monitor relevant online media coverage on a wide range of restaurant tech topics.
Lviv IT Cluster
PR Director
Apr 2016 — Oct 2019 (3 yrs 7 mos)
- development and implementation of PR strategy with minimal budget
- gathering and managing PR team (4 people)
- public presentations and speeches
- planning and coordination of online marketing strategy
- presenting Cluster scope of work summary to CEOs of tech companies every quarter
- cooperating and building relationship with media (joint projects with The Ukrainians)
- promoting CEO of a company and other executives (personal blogs and events)
- organization, promotion of the biggest tech event in Easter Europe – IT Arena
- implementation PR and marketing strategy (manage to sell 2400 tickets to IT Arena)
- organization of a press tour for foreign journalists to IT Arena
- cooperating with Bloggers and Opinion leaders to improve IT Arena brand
- cooperating with top tech media like TNW, Tech Crunch, Tech.eu, AIN, KyivPost etc. (Over 120 media covered IT Arena)
- implementing special projects related to education, infrastructure
- marketing in social networks, blogs and rating
- e-mail marketing and planning, analytics (Mailchimp).
- copywriting and content management
PR-manager
Apr 2015 — Apr2016 (1 yr 1 mo)
IT Arena
PR Manager
Apr 2015 — Oct 2019 (4 года 7 месяцев)
42DM Corporation
PR Manager
Mar 2018 — Aug 2018 (6 месяцев)
- Built and managed PR campaigns to publicize fintech and blockchain projects;
- Executed media outreach;
- Collaborated with bloggers;
- Advise about social media activities; Locate speaking opportunities;
- Built long-term relationships with journalists, opinion leaders and influencers;
- Created interesting news hooks;
- Prepared copy for various media;
- Arranged listings for ICO projects;
- Coordinated other project related PR activities
Zoom Support. Lviv
Technician
Feb 2015 — Apr 2015 (3 месяца)
ОСВІТА
National University 'Ivan Franko' , Lviv
Bachelor's Degree, English Language and Literature, General
(2011–2016)
National University 'Ivan Franko' , Lviv
Master's degree, Journalism
(2010–2014)
Current Role:
PR & Communications
No followed people