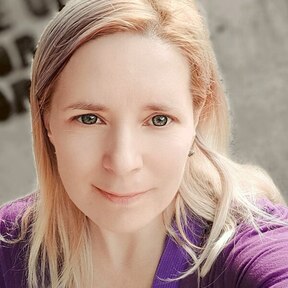 SEO Team Lead at Promodo
About me
Досвідчена SEO експертка, з більш ніж 6 річним досвідом в SEO для західних ринків. Мій головний фокус - це лінкбілдінг. Більше 3 років я очолюю лінкбілдерів та допомогаю компаніям будувати якісні посилання для просування бізнесу в Інтернеті.
Main Expertise
off-page SEO
лінкбілдінг,
аутріч,
менеджмент команд,
організація процесів лінкбілдінгу в компаніях,
автоматизация лінкбілдінгу.
Experience
Promodo
Team Lead Manager
Aug 2022 - Present
NDA
Head of SEO Linkbuilding Department / Project Manager
May 2021 - July 2022
• Staff management and coaching. Fifteen people on remote altogether.
• Planning and implementing link building projects, including budgeting and task
management.
• Headhunting staff for the department board, conducting job interviews,
selecting job applicants, teaching new staff
• Communication with other departments and the CEO
• Resolving the various problems inside the department
SEO Team Lead Linkbuilding Department / Project Manager
Feb 2020 - May 2021
Freelance; Self-employed IT professional
SEO Department Lead
Dec 2018 - May 2021
Ukraine
Self-employed IT consultant in developing and marketing websites.
- Link building
- Niche research
- Strategic planning in marketing
- Website development on WordPress
- Technical SEO
Mirai Net
SEO Team Lead Linkbuilder Department
Oct 2019 - Feb 2020
SEO-спеціаліст
May 2019 - Oct 2019
Miss To Mrs® Wedding Gifts Inc.
Search Engine Optimization Team Lead / Project Manager
Dec 2017 - July 2019
As SEO Department Lead, my abilities were:
• Analytics, research, and developing SEO and SEM strategies
• Perform internal and external analytics of the project and competitors
• Develop short and long-term SEO strategies and improve over
existing
• Manage the work of Content Managers
• Work with Blogs and other websites to acquire external links
• Work on existing content to improve content, usability, performance, and
internal linking
• Working with other vendors for collaboration
• Conduct team evaluations and performance reviews and provide
recommendations
• Work with the Web Team to improve website structure for SEO
purposes
• Conduct interviews for hiring new team members when required
SEO Manager
July 2017 - June 2019
Wedding Forward
SEO-спеціаліст
Jan 2017 - June 2017
RED UMBRELLA LIMITED
Content Management Specialist
Dec 2016 - Jan 2017
IPCOM-UA
SEO Content Writer
Sep 2016 - Dec 2016
Writing reviews, news, and informational articles for company websites. Operating
IPCOM, Ferocon, Tradeptom websites groups in VKontakte, Facebook,
Twitter, G+. Administration of these sites, keeping the catalog up to date.
GoIT
QA4
Aug 2016 - Dec 2016
ArkoDan
SEO Content Writer
Jan 2014 - Aug 2016
National Aerospace University -'Kharkiv Aviation Institute'
Graduate Research Student
Feb 2006 - Jan 2014
Development of a fault-tolerant control system for a satellite with flywheel
engines. Teaching special disciplines to students in English
Education
Projector Institute
IT Project Management (May 2022 - July 2022)
Skillsetter
Target audience and product positioning (December
2021 - January 2022)
Stratoplan Management School
TeamLead 101 (November 2021 - January 2022)
Skillsetter
Market and competitor analysis (November 2021 - December 2021)
*National Aerospace University *
Master, Research Engineer in Control Systems (1999 - 2006)
Current Role:
SEO Team Lead
No followed people