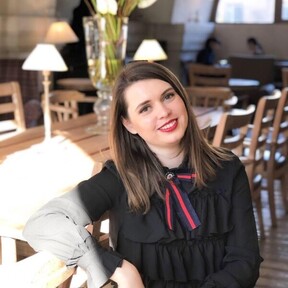 Content Marketing Manager у HRForecast
Employer Branding expertise
ПРО МЕНТОРА
Керівник групи контенту в команді маркетологів.
6+ років у копірайтингу
Розвивала та підтримувала сприятливий імідж компанії — бренд роботодавця.
ЕКСПЕРТИЗА
Копірайтинг, контент-стратегія, введення блогів, розробка інтерфейсів користувачів.
ПУБЛІКАЦІЇ
5 популярних систем управління кандидатами (ATS): огляд для рекрутерів
June 30,2022 — Happy Monday
Код 2020: як змінилася IT-сфера цього року та що чекає на неї у наступному
December 28,2020 — Happy Monday
ДОСВІД РОБОТИ
HRForecast
Content Marketing Manager
Germany
Novr 2020 — Present (1 yrs 9 mos)
Setapp
Content Manager
April 2020 — December 2021 (1 yrs 9 mos)
- collaborating with a Content Marketing team to create blog posts
- creating tasks for content writers
- writing blog posts for SetApp blog
EPAM Systems
HR Content Manager
March 2020 — December 2021 (1 yrs 10 mos)
– writing HR landings, advertisements, video scripts, email newsletters, etc to engage with potential candidates for EPAM Anywhere platform
– creating engaging and compelling vacancy descriptions
– writing articles for EPAM Anywhere blog
EvoTalents
SMM / Content Manager
February 2020 — February 2021 (1 year 1 month)
– creating a content plan for Instagram (posts and stories) and engaging content (texts, photos, animated stories)
– creating a content plan and content for LinkedIn
– communication with followers on Instagram
– writing articles for EvoTalents's blog
RubyGarage
Content Marketing Team Lead
September 2017 — February 2020 (2 yrs 6 month )
– edited the content for RubyGarage's blog, guest posts, and social media messages
– mentored the Content Marketing team members
– managed social media accounts (Instagram, LinkedIn): came up with a content strategy, format of posts, generated ideas
– organized a Copywriting course: composed a curriculum, presentations, home assignment
– a contributing author to Ruby/Ruby on Rails Digest on DOU
Employer Branding Manager
June 2019 — 2020 (1 year)
– created employee personas and personas for bi-yearly Ruby/Ruby on Rails courses
– created EVPs
– wrote/translated job descriptions for job websites
– conducted research and surveys among employees
– initiated company's participation in a Rails Girls Event and took part in organization: sponsorship pitch, media partnership, PR of the event
– created (with the team) a Culture Book with company's values, mission, and essential information about the company
– worked with Facebook/Instagram ads
Tech Copywriter
June 2016 — September 2017 (1 year 4 month)
- writing articles for Ruby Garage's blog;
- writing guest posts (Slidebean, WebDesigner Depot)
- workflow according to Scrum
- translations (Russian-English)
- writing of posts for social media accounts (Dribbble, Behance)
- basic knowledge of HTML
- collaboration with a Design team
- mentoring the Content Marketing team members
INTERPIPE/ИНТЕРПАЙП
Technical translator/Personal Assistant
July 2015 — November 2015 (5 month)
- Translation of various types of works: documents related to law, metallurgy, industry, engineering;
- Translation of mailing;
- Interpreting at meetings. Ability to work "on the spot", readiness to translate wide topic range.
- Organisational duties, interacting with a lot of people and departments within big corporation, ability to find fast solutions;
- Personal assistant to Chief Technical Officer: mailing, scheduling of events, organisation of transfers, business trips etc;
- Partial office management within the office of CTO; handling of various equipment.
Friends Language Club
English Teacher
August 2012 — February 2015 (2 years 7 month)
- knowledge of main teaching methodologies (communicative approach has been practiced in terms of Friends LC)
- teaching grammar, speaking, individual lessons;
- teaching individual lessons in terms of narrow specification: metallurgy, engineering, IT;
- conducting sample lessons with future students, ability to attract people;
- creating lessons plans, making wordlists, preparing lessons from scratch, designing handouts and all the necessary materials;
- knowledge of up-to-date coursebooks and materias;
- high social skills, ability to keep a productive lesson in relaxed atmosphere
Poster for Tomorrow
Interpreter
May 2012 - May 2015 (1 month)
Interpreting for Susanna Machicao's workshop (designing posters in terms of voting process) within a week:
- interpreting of workshops, consultations and interaction with all the participants
ОСВІТА
Dnipropetrovs'kij Nacional'nij Universitet
Master's Degree, English Language and Literature, General, Англійська філологія
(2009–2015)
Current Role:
Content Marketing Manager
No followed people