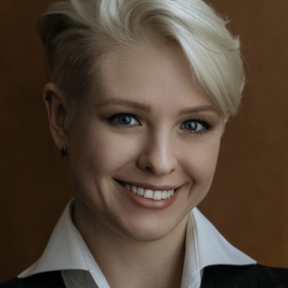 Partner at TAXUS LAW & FINANCE
About me
I'm a highly qualified lawyer with over 8 years of experience in IT, various spheres incl. gaming, dating, marketing, e-commerce, and FinTech. My expertise covers tax planning, foreign company registration, payment solutions, IP advice, contract review, and drafting. I can make your international business easier for you.
Main Expertise
Drafting Agreements
Contract Negotiation
Document Review
Legal AdviceLegal Advice
Legal Research
Corporate Law
Contract Law
Legal Assistance
IT Law
Non-disclosure Agreements
Marketing Agreements
Merchant Card Processing
Agency Agreements
Consulting Agreements
Publications
Main "pitfalls" in contracts with publishers
February 10, 2022
"Everyone works when and as much as they can." How Ukrainian business adapts to the war: the example of Taxus Law & Finance
Apr 07, 2022 - mc.today
Legal cheat sheet for developers
February 17, 2021
"Shoot yourself in the leg", or How Ukraine "kicks out" startups
September 10, 2020 - news.finance.ua
They monitored employees and lied to customers: for which Google, H&M and other large companies were fined tens of millions
February 23, 2021 - mc.today
Experience
TAXUS LAW & FINANCE
Partner
July 2018 - Present (4 years 4 months)
London, United Kingdom
Some of the ways we could be of help to your business:
- tax-efficient business structuring
- company incorporation in Europe, Asia (Hong Kong, Singapore), USA
- services of organization of substance
- bank and EMI account opening
- assistance with merchant accounts
- revision and drafting of contracts and other legal documents
- special cases (licenses, exotic jurisdictions) - ready to discuss
Private Entrepreneur
Legal Advisor
June 2015 - Present (7 years 5 months)
Legal research and advice in the sphere of FinTech.
Negotiation of contracts with counterparties.
IT - Company
Lawyer
March 2014 - June 2015 (1 hour 4 months)
Revision and drafting of different types of agreements and other documents in
various spheres of E-commerce:
- Marketing Agreements;
- Consulting Agreements;
- NDAs;
- Terms & Conditions;
- various Service Agreements, etc.
Legal research and advice.
Negotiation of contracts.
Private Notary Filippova L.P.
Notary Assistant
2012 - 2014 (2 years)
Zaporizhzhya
Responsibilities: preparation and drafting of notarial documents (contracts,
testaments, certificates, declarations, powers of attorney), the filling of bank
cards, work in Unified and State registers; keeping records, archive; advising
clients.
ApostylePRO Translation Bureau
freelance translator
2010 - 2013 (3 years)
Dnipropetrovsk
Written translation of texts from English/German into Ukrainian/Russian.
Zaporizhzhya Institute of Hetman Sagaydachniy "Interregional
academy of personnel management"
Assistant of Head of HR
2010 - 2011 (1 hour)
Zaporizhzhya
Responsibilities: HR administration, calculation of time cards of load.
"Megaron" State Enterprise
Personal Assistant of Director
2007 - 2008 (1 hour)
Zapozizhzhya
Responsibilities: answering of phone calls, registration of incoming and
outgoing correspondence, drafting of official documents.
Education
Classical Private University
Master's degree, Public administration · (2011 - 2013)
Zaporizhzhya National Technical University
Specialist, Law · (2007 - 2012)
Classical Private University
Bachelor's degree, English philology and translation · (2007 - 2011)
Company:
Taxus Law&Finance
No followed people