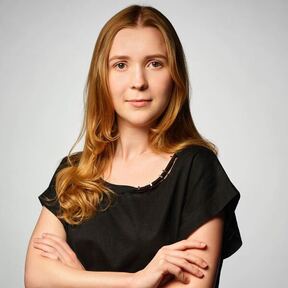 Investment Director у Flyer One Ventures
ПРО МЕНТОРА
Investment Manager у венчурному фонді Flyer One Ventures;
Керувала 15+ інвестиціями в MUNCHER, Prodly, Awesomic, 99math, Hacker Noon, Allset, 3DLOOK, AllRight, PromoRepublic тощо;
ЕКСПЕРТИЗА
Fundraising
Investors relations
Pitching
How to tell about your business in 5 slides
Investment PR
Networking
ПУБЛІКАЦІЇ
Освіта стає ігрофікованою. Як ігровим та EdTech бізнесам об'єднатися та заробити
Forbes
ДОСВІД РОБОТИ
Flyer One Ventures
Investment Director
January 2019 — Present (3 years 8 months)
London, England, United Kingdom
At Flyer One Ventures, I source Seed/Late Seed/Series A deals and do PR for portfolio comps. My article on Sifted was shared by Guy Kawasaki:) Led investments in Prodly, Hacker Noon, Allset, Ducky, 3DLOOK, Refocus,AllRight, PromoRepublic, 99math etc. Investors from a16z, EBRD, Greysoft, Shasta Ventures, TMT, AltaIR, LETA Capital, Fort Ross Capital, 500Startups,
Startup Wise Guys, Vendep, Innovestor, Howzat Ventures, Bolt, Verv, Pipedrive and Rovio participated in the rounds.Built PR team from scratch with publications on Business Insider, TechCrunch, Venture Beat, Forbes, Sifted, Crunchbase News etc.
Startup Wise Guys
Mentor
March 2019 — May 2021 (2 years 3 months)
Lithuania
Mentor startups on B2B SaaS Selection Bootcamps and Online Accelerators.Specialise in Pitching Startups, Business Models, and Investor Relations.
Female Founded Club
Scout
January 2020 — August 2020 (8 months)
United States
Being the only Eastern European Scout at Female Founded Club, I am helping founders from CEE region get exposure to US investors, monitoring FFC'sexclusive database of female-founded startups. So far I have referred 10+startups, 5 of which were accepted to the database. DM me if you want to learn more about FFC.
TA Ventures
Investment Analyst
March 2018 — September 2018 (7 months)
Kiev
1. Sourced and monitored early-stage startups (DACH, UK, US);
2. Conducted industry research and business analysis;
3. Analyzed companies' cap-tables and other financial data;
4. Developed a financial model for an investment club (iClub);
5. Communicated with iClub members on investments;
6. Assisted the fund's PR strategy in social media.
Citi
Treasury Analyst
September 2017 — March 2018 (7 months)
Kiev, Ukraine
1. Improved Citibank Ukraine's liquidity management strategy;
2. Analyzed portfolio FI-instruments' performance;
3. Coordinated a communication project with Bloomberg;
4. Developed 4 FX hedging models for exporters and importers;
5. Prepared decks for Sales sub-division and ALCO meetings;
6. Revamped Citibank Ukraine's HR strategy.
EY
Transaction Advisory Services Summer Intern
July 2017 — August 2017 (2 months)
Ukraine
1) Assisted on the development of an analytical report on a financial institution valuation;
2) Assisted in the development of a market research report on hotel industry.
VoxUkraine
Research Intern
January 2016 — August 2017 (1 year 8 months)
Ukraine, Kyiv
1. Took over an analytical project for Ukraine Independence Day (2016), when the team experienced hurdles;
2. Led a team of 3 members in an analytical project "Ukraine in GlobalRatings" (2017).
1+1 media
Junior Data Analyst
September 2016 — December 2016 (4 months)
Ukraine
1) developed a code for SPSS for data cleansing and sorting;
2) conducted a desk research for channel rebranding in Power Point;
3) helped in development of daily and weekly reports;
4) learned to use Markdata and understand consumer trends in media industry;
5) analyzed survey data in Excel and Google Maps and helped in decision-making on low-quality survey questionnaires;
6) worked 20 hours per week while studying on a full-time program at Kyiv-Mohyla Academy, Economics.
ОСВІТА
University of Helsinki
Bachelor's degree, Economics
(2017–2017)
National University of Kyiv-Mohyla Academy
Bachelor's degree, Economics
(2014–2018)
Current Role:
Investment Director
Company:
Flyer One Ventures
No followed people