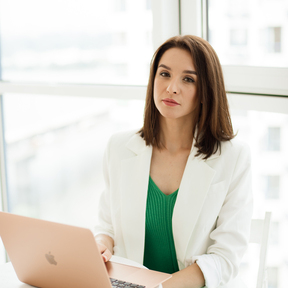 Chief Strategy & Operations Officer у L.K. SENSE IT DEVELOPMENT LTD
ПРО МЕНТОРА
Допомагаю вирішувати маркетинг задачі та задачі по масштабуванню бізнесу, а також маю досвід у формуванні та просуванні особистого бренду.
Експерт з маркетингу та комунікацій, досвід понад 15 років, працювала у різних індустріях (FMCG, Pharma, Fashion, Info-Products, IT products and services, IGaming) - широкий бізнес кругозір.
Наразі працюю операційним директором та відповідаю за основні процеси компанії: маркетинг, фінанси, робота з клієнтами. Також відповідаю за корпоративні політики компанії та орг структуру.
Основний пласт досвіду отримала в маркетингу. Це бренд менеджмент в відомих FMCG компаніях, продукт менеджмент у Фарм компанії, маркетинг менеджмент онлайн продуктів та SaaS, запуск стартапів.
Досвід в комунікаціях здобула, працюючи з IT послугами та продуктами. Формувала стратегії, комунікаційні платформи та план активації бренду/продукту/компанії. Була частиною команди, що готувала стартапи до залучення інвестицій, є досвід створення пітчдеків.
ЕКСПЕРТИЗА
-Бренд-стратегія
-Маркетинг-стратегія
-Комунікаційна стратегія
-Формування персонального бренду та стратегії його просування
-Формування команди маркетингу та комунікацій
ПУБЛІКАЦІЇ
2023: маркетингові тренди після перемоги
Lean-підхід як метод виживання бізнесу в українських реаліях
Customer Development та Customer feedback: важливий інструмент для успішного запуску стартапів та масштабування бізнесу
H2H-маркетинг: особливості та переваги з урахуванням непростих сучасних реалій
Місія та візія бізнесу: як прописати та навіщо це потрібно
Blitz interview with Daria Kushnir, marketing trends 2021 and vision for 2022, Ukraine.
Assets, Diversity, Content, and Everything That Goes with It.
WE CREATE A WINNING BRAND FOR YOUR GROWTH
Professional burnout. The mix of pain and guilt. Let's get a bit personal.
7 Marketing trends of 2021 which you should take into account when creating a strategy
Design Thinking approach
Discover Marketing Research part 3: Brand and Product
Discover Marketing Research part 2: Competiton
Discover Marketing Research part 1: Market
Досвід роботи
L.K. SENSE IT DEVELOPMENT LTD
Chief Strategy & Operations Officer
September 2020 - Present (1 year 11 months)
Cyprus
TECHIIA
Strategic Business Adviser | Marketing | Brand Strategies | Digital expertise
December 2018 - Present (3 years 8 months)
Kiev Region, Ukraine
-Research trends and competitive intelligence on the market;-Develop growth strategies for new businesses and products;-Shape the value roadmaps and evaluate GTM plans;-Use design thinking, diagnostics and process benchmarking to discover value opportunities.
ENESTECH Software
Chief Marketing Officer
June 2018 - December 2018 (7 months)
Ukraine
Responsibilities:-Developed and executed growth strategy;-Established and tracked milestones and KPIs in order to ensure compliance with the strategic direction and manage transformation efforts;-Researched trends and competitive intelligence;-Communicated insights and analytical findings to a board of stakeholders, including investors and founders.-Had been continuously working on product-market fit collaboratively with theProduct Owner.
ARS DATA
Head Of Marketing
February 2017 - June 2018 (1 year 5 months)
-Developed B2B marketing strategy, set business goals, budget and target P&L;-Website development and launch: content, design, SEO;-Lead generation strategy creation & implementation;-CRM process setup-Conduct performance analysis: P&L, Cash Flow assessment, GoogleAnalytics.
project based involvement
Business Consultant
April 2016 - May 2018 (2 years 2 months)
Ukraine
Vigo Velix (Swiss sports studio), Fashion brand Korsun, COS stock on-line store, HealthLab (Cosmetics Startup consulting), Personal brands: Nutritionist KaterinaPashko, Career Consultant Olga Miroshnichenko, Transformational coach TatianaTkachenko, Beauty Room by VP, ect
Olga Evlanova Training Center
Digital Marketing Manager
April 2016 - May 2018 (2 years 2 months)
Ukraine
-Developed marketing strategy (incl. Digital), set business goals, budget and target P&L;- Manage outsource marketing team;
-Manage social media channels such as Facebook, Instagram, Telegram: content strategy and plan, promotion, PR, campaigns analysis;-Maintained website launch;-Conduct performance analysis: P&L, Cash Flow assessment, GoogleAnalytics, Social Media KPIs, Google trends.
Part-time
Nai Lu-na by Anastasia Ivanova
Brand Development Manager
December 2016 - April 2017 (5 months)
Kiev Region, Ukraine
-Strengthened business foundations, provided long-term growth perspective;-Expanded business presence in social media including SMM strategy development,setup of content generation pipeline (rus, eng), promotion plan, etc;-Created and maintained a public image in line with brand values and attributes;-Successfully managed entrance to the "ЦУМ" store, from idea to the first sales, including staff recruitment and training;-Reshaped distribution universe and strategy. Developed and implemented new trade terms, lead negotiation with key buyers;-Formed relationships with fashion and beauty key influencers across the social media platforms.
L'Oréal
Senior Product Manager
March 2016 - July 2016 (5 months)
-Boosted core portfolio growth with the new product launches;
-Successfully executed digital marketing campaigns;
-Developed and implemented video content strategy.
-Brand strategy development and annual business planning;
-Orchestration of product launches including full IMC campaign, pricing strategy;-Creative development supervision;-Digital campaigns planning and implementation -Collaboration with influencers.
Sandoz
Brand Manager
July 2013 - March 2016 (2 years 9 months)
-Responsible for brand strategy development and annual business planning;-Led product launches;-Developed and executed brand communication strategy;-Developed and implemented pricing strategy;-Lead insight generation process, conducted market analysis;-Supported KOL strategy and continuous collaboration.
Colgate Palmolive
Brand marteking, oral care category
June 2011 - July 2013 (2 years 2 months)
Full executional responsibility for toothpaste category marketing activities including:- New product launches preparation and execution- Cross-functional teams leadership- Media campaigns preparation and execution (TV, Internet, Print, OOH)- Pricing strategy and price promotions - In-store strategy and activities, POSM development- Marketing research - Annual marketing strategy preparation- Budget planning
Merck
Marketing Coordinator
February 2008 - July 2010 (2 years 6 months)
mars
Analyst-Coordinator
January 2007 - February 2008 (1 year 2 months)
Освіта та сертифікати
-Економіка та фінанси
-Postgraduate diploma in marketing (CIM)
-Digital Marketing (IMB Academy)
-Product PR
-Leading for creativity (IDEO)
Current Role:
Директор з операційних та стратегічних питань
Company:
LK Sense IT Development
No followed people