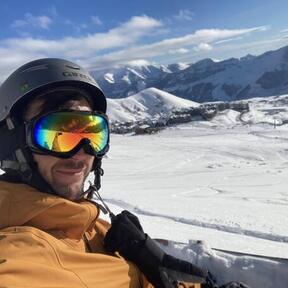 About me
Я працюю фахівцем із Data Science та машинного навчання в галузі охорони здоров'я в США. Моя поточна посада — Senior Staff AI Research Scientist в компаніі Aledade
Main Expertise
Я знаю багато про про архітектуру и моделі систем машинного навчання для стартапів SaaS. Крім того, я багато знаю про машинне навчання та великі дані в галузі охорони здоров'я.
Experience
Aledade, Inc.
Senior Staff AI Research Scientist
January 2023 - Present (2 months)
Foundry.ai
Lead Data Scientist, Curia.ai
February 2020 - January 2023 (3 years)
Senior Data Scientist, Curia.ai
June 2019 - February 2020 (9 months)
Data Scientist, Curia.ai
June 2018 - June 2019 (1 year 1 month)
Afiniti.com
Algorithm Engineer, AI team
June 2015 - June 2018 (3 years 1 month)
- R&D: team member for algorithm development of a core company's AI
product
- Production management: AI team lead for several US-based projects
- Data Science: daily deep-dive data investigations aiming to resolve operation
optimization puzzles
- Software development: author of various internal R packages covering
different teams' operational need - from data extraction to data visualization
and analysis
CONTACTIS
Co-founder, CEO
October 2003 - July 2014 (10 years 10 months)
Turned a 3 employee start-up into a data-driven company with more than 120 employees and a 7% market share.
Developed the call center's data reporting system: call load statistics, forecasting and workplace management.
Signed the company's top clients, such as WizzAir airlines, Freshtel, Watsons retail group, Skoda and Electrolux.
Co-founded and became board member of the Ukrainian Contact Center Association.
Leveraged experience gained in call center management to branch out into call center consulting services.
Internet Consulting and Communications (ICC)
Project manager, managing director
June 2001 - October 2003 (2 years 5 months)
CHIP
Electronic publications editor
February 1998 - June 2001 (3 years 5 months)
Covered the world's largest annual computer fair CeBIT (Hannover, Germany),
interviewed VP-level executives of leading IT companies such as IBM,
Microsoft, Acer, Intel and Adobe
Education
MS in Applied Math from National Technical University KPI (Ukraine) 1995-2002
MA in Statistics and Data Science from Columbia University (NY, USA )2014-2015
Специаліст з прикладної математики НТУУ КПІ (Україна)1995-2002
Магістр з Статистики та Data Science в Колумбійському університеті (Нью-Йорк, США)
2014-2015
Current Role:
Lead Data Scientist
No followed people