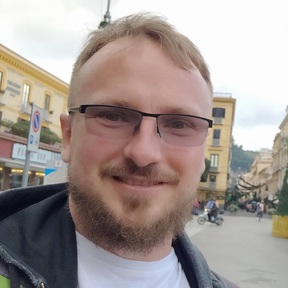 Director of Product у TheVentureCity
Про ментора
Маю 20 років менеджерсього досвіду в IT, з 2015 - на позиціях Head Of Product спочатку в YouScan, потім в BlaBlaCar, зараз - у TheVentureCity.
Завжди щільно співпрацював з CTO або VP Engineering заради побудови продктово-інженерних команд, які працювали б як єдине ціле. Доводилося мати справу із вибуховим ростом, із командами понад 100 людей, а також з випадками інтеграції команд після M&A.
Головні складові успіху у моїй практиці - це продуктова культура, чітка стратегія, система постановки цілей та структура, що дозволяє невеликих групам бути максимально автономними у прийняті рішень.
Експертиза
Product Management,
Product strategy,
Product market fit,
Business Strategy
Публікації
Вебінар для підлітків
Ampli, teen accelerator
Як упорядкувати хаос і рухатися до цілей за допомогою продуктової стратегії
Parimatch Tech
Досвід роботи
BlaBlaCar
Head of Product - Pro Marketplace
October 2020 - Present (1 year 10 months)
YouScan
Head of Product
July 2015 - September 2020 (5 years 3 months)
VocWord
Founder & CEO
August 2014 - March 2015 (8 months)
The goal of this project is to help foreign student to enroll in the best
universities of the world.
unicoursity.com
Founder & CEO
September 2013 - September 2014 (1 year 1 month)
Online courses oriented on induviduality and creativity development.
ITDLS Consulting
Head of Kiev department, Agile Product Owner
July 2012 - September 2013 (1 year 3 months)
- managing all activities in Kiev
- Agile Product Owner responsibilities for the anchor project
- analysing customer needs, preparing commercial propositions
- organizing workflow using online software and online documents
- developing the system of rules to increase motivation
- optimizing resources costs
- conflict resolution
- relationships with local partners
- HR, recruiting
Project Manager, Agile Product Owner
August 2005 - July 2012 (7 years)
- analysing information needs and specifying technology to meet those needs
- resource planning
- controlling deadlines
- formulating and directing technology strategies, policies and plans
- setting priorities between system developments, maintenance and operations
- software architecture design, writing specifications
- database architecture design
- programming environment: C#, .Net, C++, MFC, Microsoft SQL Server
Software developer, Programming Analyst
July 2004 - August 2005 (1 year 2 months)
- user needs analysis
- writing requirements documentation and system plans
- manage tasks in team of 4 developers.
- writing and maintaining program code to meet system requirements, system
designs and technical specifications in accordance with quality accredited
standards
- researching, consulting, analysing and evaluating system program needs
- software architecture design, writing specifications
- programming environment: clear C++, Win32 API, MFC, SoftICE
Software Engineer
September 1999 - July 2004 (4 years 11 months)
- writing and maintaining program code to meet system requirements, system
designs and technical specifications in accordance with quality accredited
standards
- researching, consulting, analyzing and evaluating system program needs
- software architecture design, writing specifications
- developing c++ template libraries
- programming environment: clear C++, Win32 API, MFC, SoftICE
Освіта
National Technical University of Ukraine 'Kyiv Polytechnic Institute'​
Master's degree, System analysis
(1998 - 2004)
Current Role:
Director of Product
No followed people