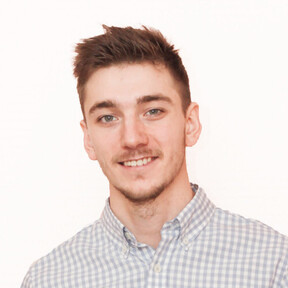 Founder & CTO at Elai.io
About me
Founded a Web & Mobile software agency in 2016, now growing to 50 employees
Founded Generative AI startup Elai.io, so far grown to 30 employees, and reached more than 1000 active customers, hundreds of thousands in revenue in a year.
I have a good mix of hands-on engineering and start-up growth experience, an expert in Generative AI and LLM-powered startups.
Experienced in B2B AI SaaS startups, tech, sales, customer success, product, fundraising, team, and founders relationship
Main Expertise
B2B AI SaaS startups
Tech
Sales
Customer success
Product
Fundraising
Team
Founders relationship
Publications
DOU Проектор: SocialNotify — как из фичи на сайте сделать бизнес - DOU - 2015 р.
Experience
Elai.io
*Founder & CTO
May 2021 - Present
Generate engaging AI videos with the real presenter just from the text for
educational and marketing video content.
Springs
Partner
March 2019 - Present
Co-founder, CEO
Feb 2016 - Feb 2019
Together with my team, we provide full-cycle custom web & mobile
business and individual development, rebuilding, and upgrading existing
applications.
We help to connect developers with businesses using our own project
management and budget planning methodologies.
CuePath Innovation
Technical Lead
July 2020 - Jan 2022
1 Medication adherence monitoring tool that requires NO changes in patients'
behavior
Vouchery.io
Tech Lead
March 2019 - Dec 2019
A small startup (6 people) that automates eCommerce promotions (coupons,
discounts, gift cards, etc.). Stack: RoR, Angular 6, AWS.
- Created a very flexible API V2.0 architecture which allowed us to launch
more clients with advanced business inquiries;
- Hired a new development team to implement functionality;
- Added Zapeir integration and helped our clients to use Vouchery successfully
in their business.
ZEO Alliance
Senior Software Engineer
Febr 2015 - March 2016
One of the most successful product companies in Kyiv, Ukraine, with more than
300 employees. My responsibilities were to create & maintain a PHP/Angular
based application used as an ERP and Kitchen management tool in
the company.
Moddo
Co-founder & Software Engineer
Febr 2014 - July 2015
Modern fashion marketplace for selling new and pre-owned clothing.
Elance-oDesk
Full Stack Developer
Dec 2012 - May 2014
Worked mostly on PHP/Javascript projects from scratch (including app and DB
architecting)
FudeNewMedia
Web Developer
June 2011 - Febr 2012
Worked on different WordPress projects, developed modules
Education
NTUU KPI
Master's degree, Computer sciences · (2008 - 2013)
Current Role:
Founder & CTO
No followed people