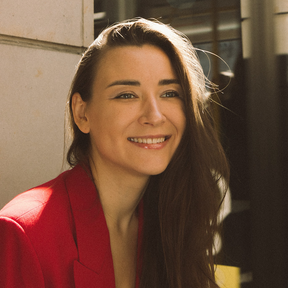 Global Talent Acquisition Specialist at Just Eat Takeaway.com
About me
I help people find their dream jobs with the best offer.
I have 6 years of experience in HR and recruiting in startups, corporate environments, and independent.
I relocated to Berlin, experienced a hiring process abroad as a candidate, and now I am helping many IT specialists of different levels relocate and find the best match for engineering product teams in Germany, the UK, the Netherlands, Slovakia, and Bulgaria.
Main Expertise
interview preparation
interview mock
job market insights
defining career goals and planning how to reach them
CV reviewing/writing
creating/reviewing profiles on the social network, especially Linkedin
defining a job search strategy
relocation assistance
culture fit interview preparation for relocation
Experience
`Just Eat Takeaway.com
Global Talent Acquisition Specialist Product & Tech
Nov 2021 - Present
- Making partnerships with the stakeholders to hire the most talented Tech people in Germany and globally
- Coaching Hiring Managers
- Working with metrics to share insights and make the best decision in the recruitment strategy
- Working closely with sources and independently to provide a candidate pool continuously
- Participating in and leading global TA projects such as the Candidate Experience project, Early Career program, etc.
- Advocating candidate experience journey, educating and influencing the interviewing teams on the quality of the recruitment process
- Being a part of the Woman in Tech community, organizing events to promote the company as a diverse and inclusive employer
- Participating in the Tech conferences
Recruitment Operational Excellence
Jul 2022 - Nov 2022
Full-cycle recruitment
Supporting candidates at all stages of the hiring process, providing feedback
References gathering
Support processes after an offer (employees on-/offboarding)
Retention control: providing job satisfaction talks to identify and address retention risks
Communicating with clients
Dragon's Lake Entertainment
Talent Acquisition Specialist
Feb 2020 - Oct 2021
Full-cycle recruitment in Tech, Art
Building trustful relationships with candidates
Actively sourcing and engaging candidates using a variety of channels, generating pipelines for each position
Communicating with the recruitment agencies
Reporting & Analytical Observer
Qubit Labs
IT Recruiter
Feb 2019 - Nov 2019
Data Science UA
Community Manager
Feb 2019 - Apr 2019
Applicature
Recruitment & Employer Branding Specialist
Sep 2017 - Jan 2019
Cooperating with hiring managers to develop and implement creative, proactive, and effective recruiting strategies related to short and long-term recruitment needs
Searching and selecting candidates, particularly blockchain developers (solidity), other IT positions, marketing positions
Developing pipeline and generating network proactively
Conducting HR interviews, evaluating candidates
Working closely with HRD to set up goals, implement ATS, and improve the hiring process
Organising blockchain events and meetups
Market research
Creating an employer branding strategy
Participation in other HR activities
Nova Poshta Global
Recruiter
May 2017 - September 2017
Nova Poshta,
HR Ops
June 2016 - April 2017
Education
Poltava University of Economics and Trade, Ukraine — Master's degree in Human Resources Management and Labour Economics graduated with awards, 2019
CERTIFICATION AND COURSES
Career consulting and coaching, CASE STUDY Academy, 2022
Interview Mastery Course by Lina Kalysh at People First Club, 2021
Interview and Competency assessment by FSR in UA, 2021
Tech Recruitment Certified Professional by Devskiller, 2020
DAO Project Management by IAMPM
CBP HR School PROfessional, 2017
Current Role:
Global Talent Acquisition Specialist
Company:
Just Eat Takeaway.com
No followed people