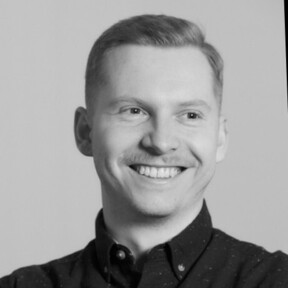 Chief Marketing Officer at Belkinas and Folderly
About me
Shaping growth-boosting marketing strategies is what I do — and
what I love doing.
Fueling sales funnels with qualified leads, exploring opportunities,
and developing exclusive campaigns for every business, I work with
— is how I contribute to transforming sales development culture.
Main Expertise
Digital Marketing
Marketing Strategy
Start-ups
Awards
Master Intellectual Property
Issued by National Technical University of Ukraine · Jun 2015
Experience
Folderly
Chief Marketing Officer
Nov 2020 - Present
All-in-one platform for domain audit, email deliverability monitoring, and spam
testing. Our goal is to help marketers accelerate their sales by assisting them insending emails that drive revenue
Make the inbox your only destination folder.
Belkins
Chief Marketing Officer
March 2019 - Present
Belkins is the most in-depth way to accelerate Outbound Sales. We provide a
dedicated sales team, whose primal goal is to target YOUR prospects, design
account-based sales campaigns and convert pre-qualified prospects into
qualified Sales Appointments. We deliver a Predictable Sales Funnel Solution
and support it with detailed campaign statistics.
Chief Growth Officer
January 2020 - Present
Achievements:
- In one year I managed to make Belkins a recognizable company in B2B lead
generation on US and EU markets.
- According to Clutch, we are now in the top 3 b2b lead generation companies
in the US.
- Inbound Sales are 30-50% of new sales
Sales Hacker, Inc.
Contributing Author
Nov 2019 - Present
MyDutyFree LLC
Chief Marketing Officer
Feb 2017 - March 2019
Mydutyfree is a global duty-free marketplace, where travelers can find out
about product availability/prices at duty-free stores and make pre-orders.
Jun 2017 promoted from Marketing Manager to Chief Marketing Officer
reporting to CEO.
Responsible for all global advertising, brand marketing, product marketing
(software and services), partnerships, pr, research, social, CRM/lifecycle
marketing, and all customer acquisition, engagement, and monetization.
.io
Business Development Manager
January 2016 - Nov 2016
Digital Forest
Media Bayer
Oct 2015 - Dec 2015
I am building an affiliate network for the startup.
• Search traffic channels
• Negotiations with partners
• Traffic analysis
• Reporting purchase traffic
• Control of payments for traffic
Newmark Ukraine
Sales Manager
June 2014 - Oct 2015
Soft.ua
Sales Manager
June 2013 - May 2014
Education
National Technical University of Ukraine 'Kyiv Polytechnic Institute'
Master, Intellectual Property · (2009 - 2015)
Current Role:
Chief Marketing Officer
Company:
Belkins, Folderly
No followed people